Rainier Square Mezzanine
Stephen Rock

September 18th - October 16th, 2009


Please refer questions to Jeffrey Moose, 206.467.6951 or jmoose@jeffreymoosegallery.com.

Jeffrey Moose Gallery, 1333 5th Ave, Seattle, is pleased to announce an exhibition in the Rainier Tower Mezzanine, 1301 5th Ave, of high resolution antique map reproductions with Northwest themes, to run from September 18th through October, 16th.

The reproductions come to the gallery courtesy of artist and digital printer Stephen Rock, originally of Ellensburg and now director of Rock's Studio in West Seattle. Mr. Rock worked for the now defunct service bureau Digicolor when they were retained as consultants to the U.S. Library of Congress in the late 90's. Mr. Rock traveled to the Nation's Capitol to train and assist the librarians in the Geography and Maps Division in the scanning and archiving of the nearly four million maps in the library's collection.

In the course of his work, Mr. Rock was given access to high resolution files of rare maps from all points of the globe including such curiosities as the first image of Manhattan Island, rendered by the Dutch and an image of California as an Island, inscribed in Latin from 1533. Of particular interest to Mr. Rock were a collection of maps featuring Washington State cities from the turn of the twentieth century, including views of Seattle, Tacoma, Olympia, Spokane, and Port Townsend. These are among the reproductions on display.

This display appears in conjunction with the gallery's new Picture Framing workshop in Ranier Square Concourse where the complete inventory of map reproductions are available for purchase and framing.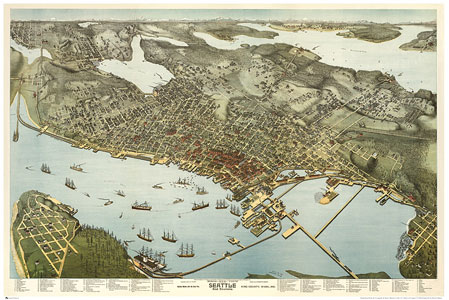 Stephen Rock
"Bird's Eye View Seattle and Environs, 1891"
Augustus Koch
(reproduction) Digital pigment on rag paper
22" x32'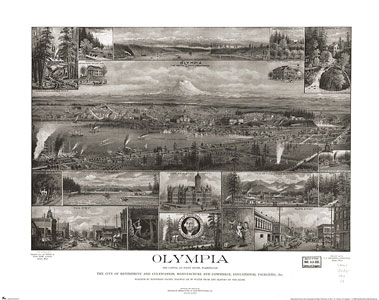 Stephen Rock
"Olympia, The Capitol of the Sate of Washington, 1903"
Edward Lange
(reproduction) Digital pigment on rag paper
19"x24'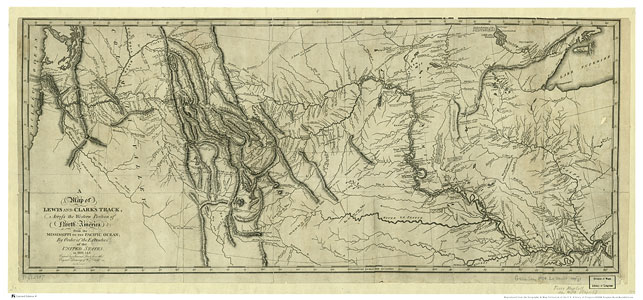 Stephen Rock
"A Map of Lewis and Clark's Track, 1804"
Samuel Lewis and William Clark
(reproduction) Digital pigment on rag paper
31 1/4"x15 1/2"