Parvin
Acrylic on canvas paintings

Mezzanine of Rainier Tower
1301 Fifth Avenue, Seattle, WA

February 13th through May 15th, 2015

Please refer questions to Jeffrey Moose, 206.467.6951 or jmoose@jeffreymoosegallery.com.

Painter Parvin (pronounced "par-veen") displays her acrylic on canvas paintings in the Mezzanine of Rainier Tower, 1301 Fifth Avenue, Seattle, from February 13th through May 15th courtesy of Jeffrey Moose Gallery, and Wright Runstad & Co.  

Her extensive career includes a BFA from The Chouinard Art Institute, now known as The California Institute Of The Arts and, early on, the publication of line drawings advertising fashion and cosmetics in Pittsburgh Pennsylvania newspapers. She has exhibited extensively since the 90's including gallery representation in Washington State and Montana and, in 2007, was included in a cultural exchange program that toured her art throughout China..  

Known for figurative work and for landscape, she employed an unusual technique in the works on display here: pouring paint onto the canvas as it lies flat and then manipulating it to create blends and flows of color, an abstract expressionist technique first made famous by Helen Frankenthaler in the late 40's. As Parvin explains it:  

 "When I was seven, I drew pictures by lining up seashells on the sandy beach of the southern shore of the Caspian Sea. They were big pictures, bigger than me. The tide would come in and sometimes erase my art or sometimes just alter it, challenging me to pursue a new direction ... Allowing water and pigment to flow on canvas is for me much like watching time-lapse-photography of the formation of the Earth."  

Additional works by Parvin can be seen at Jeffrey Moose Gallery frame shop in the Rainier Square Concourse.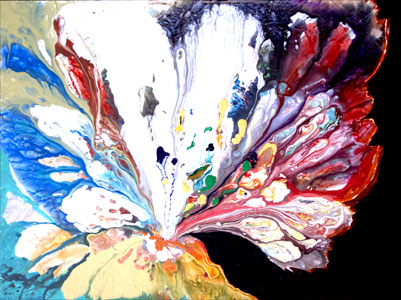 Parvin
"First Kiss"
Parvin
acrylic on canvas
36"x48"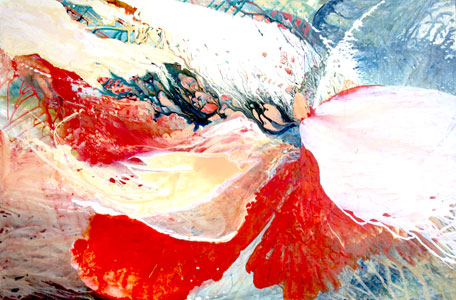 Parvin
"Harmonics of Hearts"
Parvin
acrylic on canvas
40"x60"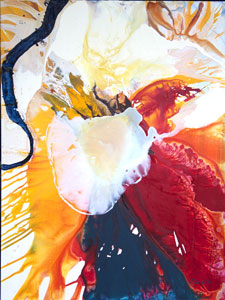 Parvin
"Warm Feelings"
Parvin
acrylic on canvas
48"x36"