Neil Andersson
November 1st through March 20, 2008


Neil Andersson KIRO interview!

Painter and musician Neil Andersson will be featured in an interview on an upcoming episode of KIRO TV's KIRO in Color , an award-winning Minority Arts program produced by Ace reporter Deborah Horne. The show will air on Sunday, March 16th at 5:30 PM on KIRO channel 7. It will feature an interview with Mr. Andersson at his exhibition in Rainier Tower Mezzanine, (showing through March 20th) as well as footage of his Gypsy Jazz band Pearl Django performing at Jazz Alley in Seattle.

The duality of his talents and his Native American background are the details which brought Mr. Andersson to the attention of Ms. Horne. His Native roots come through Montana where his mother was a member of the Confederated Salish and Kootenai Tribes.

Neil Andersson, affiliated with the gallery through the alumni association of the School of the Art Institute of Chicago, holds an MFA in Landscape Painting from the school and favors scenery from France, sometimes turning to Puget Sound for imagery. His work focuses on earth and water; most of his best depict bucolic river scenes of slow moving, wide water and lush summer foliage. His technique is realistic but not photographic, sentimental but not corny.

When Mr. Andersson is not painting, he is leading the well-known Gypsy Jazz group Pearl Django.

The group Pearl Django is known for their Gypsy style jazz music, a style developed by the enigmatic three fingered French Gypsy, Django Reinhardt. It is due to Mr. Andersson's obsession with things French that he has selected so many scenes from the south of France for his landscapes. During his travels to France, he has made many photos of romantic scenery, particularly rivers including the Loire and the Sevres rivers. Lately, scenes from Whidbey Island and Oregon have also appeared in his work.

Please refer questions to Jeffrey Moose, 206.467.6951 or jmoose@jeffreymoosegallery.com.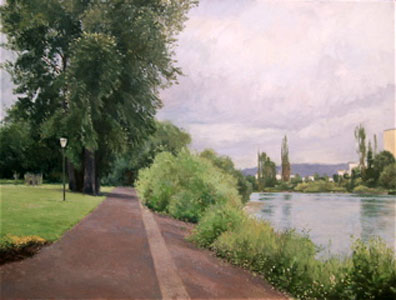 Neil Andersson
"Pathway on the Willamette River"
oil on canvas
36"x48"
2007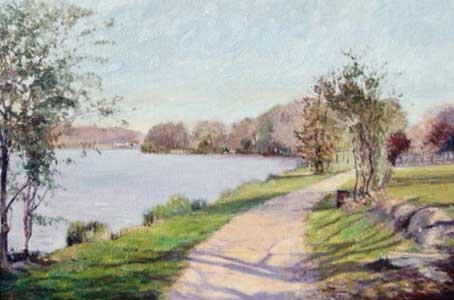 Neil Andersson
"Pathway on the Loire River"
oil on linen
24"x36"
2006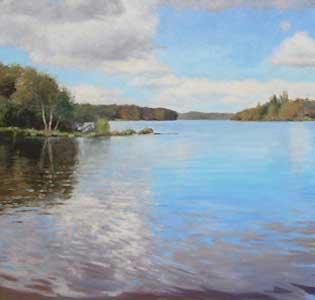 Neil Andersson
"Loire River, France-Clouds"
oil on canvas
38.5"x40"
2006

For more information contact Jeffrey Moose at 206 467 6951 or email to: jmoose@jeffreymoosegallery.com