Rainier Tower Mezzanine
August - October 2006.

Photographer Keith Willits will display a group of color photographs in the Rainier Tower Mezzanine, 1301 Fifth Avenue, for the months of August, September and October. The display is open to the public. All of the works are for sale.

Mr. Willits is a native Northwesterner, born in Edmonds and raised in Mountlake Terrace. He hiked and fished throughout the State of Washington as a child, particularly the Mt. Baker-Snoqualmie Natinal Forest. Later, as an adult, he has explored Montana, Idaho and Wyoming. Over the years his fishing skills became refined, so much so that he reached a professional level. He has worked as a guide and flyfishing instructor for the past ten years, now employed at Creekside Angling in Rainier Square. He received an AA degree from Shoreline College in 1991.

Though Mr. Willits considers his efforts as a hobby, his photos have been published in industry publications including Fly, Rod and Reel, Northwest Flyfishing and Fish and Fly magazines. His talent tends towards the "Big Picture"; vast panoramas in remote river valleys and mountain ranges caught at a moment of magical light, though his closer focus images also pack plenty of punch.

Locations depicted include Mt. Rainier, Prusik Peak (the Enchantments, near Leavenworth), the Stillaquamish River in Washington State, the Lamar Valley in Yellowstone Natinal Park, the Selway River also on the Montana/Wyoming border and the famous Silver Creek flyfishing area in Idaho.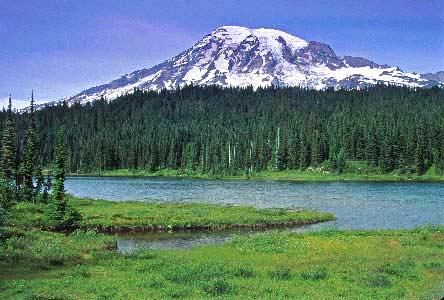 "Mt Rainier, Reflection Lake"
Keith Willits
2005
Color photograph
18"x24"