Erin Neff at Rainier Tower Mezzanine
June and July 2006


Abstract painter Erin Neff will display a group of colorful paintings in the Rainier Tower Mezzanine, 1301 Fifth Avenue, for the months of June and July. The display is open to the public. All of the works are for sale.

Ms. Neff is a remarkable talent who is primarily self-taught. She works with acrylics, charcoal and beeswax on canvas, creating images which mimic natural textures of corrosion and rust, the polarities of oil and water and explore layers of color, sometimes thin and atmospheric, and at other times, thick and metallic, like geology in formation. Though her work suggests some of the techniques and devotion to media of artists like Helen Frankenthaler or Morris Louis, her intentions differ from those talents in her strong commitment to the paintings as windows into parts of her psyche. Indeed, she is not a student of Art History and this is refreshing.

As a child in Florida, Ms. Neff drew pictures, sometimes as part of a fantasy world on the walls of her closet, made collages and wrote plays for the neighborhood kids. Though she attended college in New Mexico, Florida, and finally Washington State, she never studied art in a formal setting until taking a class at the UW's Experimental College last October. This critical experience in combination with her emergence from a series of life traumas led to the series of images on display, Ms. Neff's first-ever showing of fine art. This show follows an initial display at Ballard's Café Verité.

The works are created slowly by combining many layers of melted wax with paint and charcoal. The media are not so much drawn and painted but gently manipulated, sometimes moving or tilting the picture plane to move the warm liquid in lazy trails which sometimes criss-cross each other. With titles like "The Biology of Self" and "It's Elemental", it is clear the artist is looking, literally, inside herself for inspiration.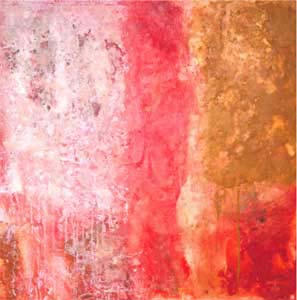 Erin Neff
"Aging Wisdom"
acrylic, beeswax and charcoal on canvas
30"x30"
2006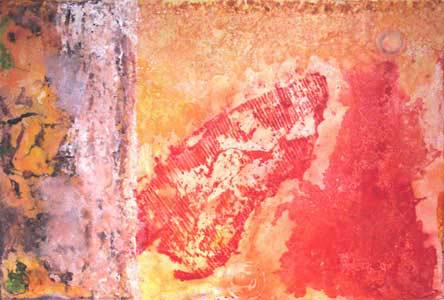 Erin Neff
"The Biology of Self"
acrylic, beeswax and charcoal on canvas
24"x36"
2006