Inge Norgaard Tapestries in Rainier Tower Nov, Dec, &Jan

Back to Previous exhibits

Monte Shelton, a visionary painter from Portland , Oregon will exhibit a group of four large oil paintings in the Mezzanine of Rainier Tower Lobby, just off Fifth Avenue and University Street in Downtown Seattle for the months of March, April and May. The show is part of a curatorial program by Jeffrey Moose Gallery. A reception for the artist will be held in the mezzanine exhibition area on first Thursday, March 3rd during the lunch hour, 11:00 am to 1 pm.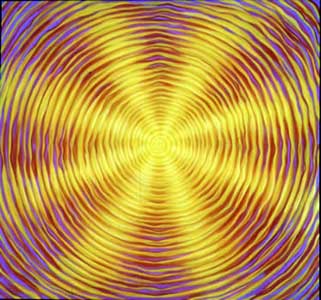 Monte Shelton
"Large Spiral"
oil on canvas
60.5" x 57"

"Energy Fields" dominate this group of images: pools of liquid light form concentric rings which dominate the whole picture-plane in glowing colors and seem to shimmer and/or make sounds. Ms. Shelton's recent body of work mixes a deep spiritual connection to the earth with a desire to poetically depict the patterns of light and power in our world. She uses flatly painted, short stroked grounds in which to set her iconic natural phenomenae, demonstrating a strong command of materials as well as a hypersensitivity to her subject.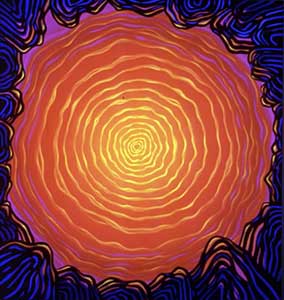 Monte Shelton
""Energy Source"
oil on canvas
57.5 x 60"

The artist has an unusual art-education history in that her background is shadowed by rural-based Northwest figurative artists Gaylen Hansen and Robert Helm,instructors who influenced her at Washington State University, where she received her MFA in 1979.

For more information, please contact Jeffrey Moose, Director of Jeffrey Moose Gallery at 206 467 6951 or jmoose@jeffreymoosegallery.com.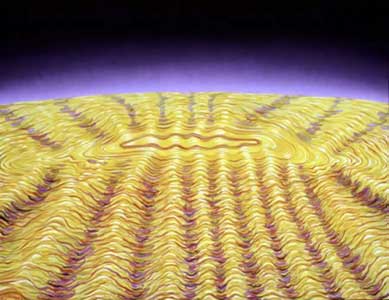 Monte Shelton
"Energy Pool # 4"
oil on canvas
48" x 60.5"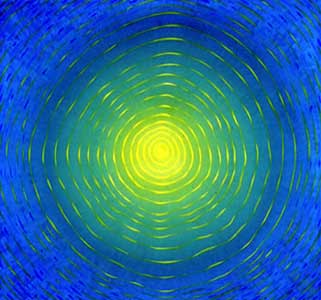 Monte Shelton
"Energy Pool / Water"
oil on canvas
60" x 57.5"

Back to Previous exhibits