Inge Norgaard Tapestries in Rainier Tower Nov, Dec, &Jan

Back to Previous exhibits

Danish textile artist Inge Norgaard, now a Port Townsend resident, will exhibit a group of four large weavings in the Mezzanine of Rainier Tower Lobby, just off Fifth Avenue and University Street in Downtown Seattle for the months of November, December and January. The show is part of a curatorial program by Jeffrey Moose Gallery. A reception for the artist will be held at Jeffrey Moose Gallery, in conjunction with the Annual Holiday Sampler exhibition, on Friday, December 10th from 5 till 8 PM.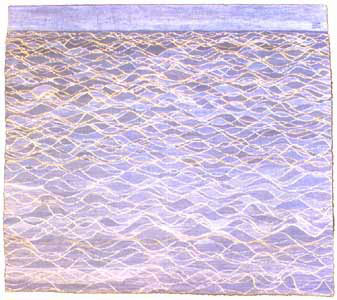 Inge Norgaard
"Song of the Ocean"
Loom-woven hand dyed wool
1999
52"x58".

Landscape is the theme of these massive tapestries. A waterfall, the ocean, a Northwest rainforest and a macro-focused scene of grasses are the subjects, rendered in gentle, earthy tones familiar to our region. The works on display were all created in the past six years and each represents several months on the loom. And even more impressive, all of the wool was hand spun by the artist and dyed with natural pigments.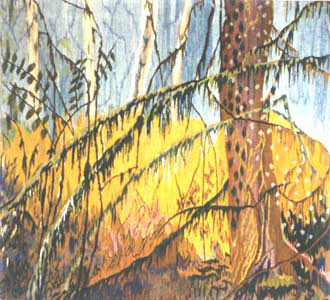 Inge Norgaard
"Northwest Sanctuary"
Loom-woven hand dyed wool
1998
52"x56".

Ms. Norgaard is a veteran of the European and American textile scene, having exhibited in Europe and the US since the mid 70 's. She grew up in Denmark where she studied at The Art Academy in Arhus, graduating in 1969. She went on to apprentice for some of the best known weavers in that country during the 70 's after studying graphic design and printing. Aside from Danish exhibitions, she has exhibited in Holland, Germany, the West Indies and China. Her inclusion in numerous traveling shows of textile art is proof of her stature. Those shows include several American Tapestry Biennials, "Washington to Washington: Women in the Arts" and "Northwest Designer Craftsmen at Fifty". She has been included in shows at the National Museum for Women in the Arts, Washigton, D.C., Atalanta International Museum, Society for Contemporary Craft, Pittsburgh, PA, as well the Ukranian Institute of Contemporary Art, Chicago. While many of her older works have included figures and representational imagery, her mature work also includes a variety of abstractions and, more recently, political expressions.

For more information, please contact Jeffrey Moose, Director of Jeffrey Moose Gallery at 206 467 6951 or jmoose@jeffreymoosegallery.com.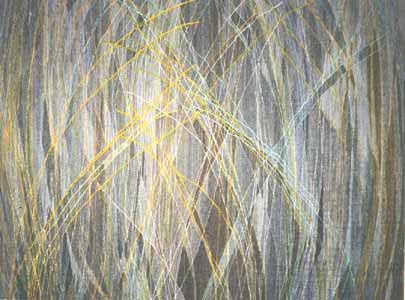 Inge Norgaard
"Grasses"
Loom-woven hand dyed wool
2000.
60"x78"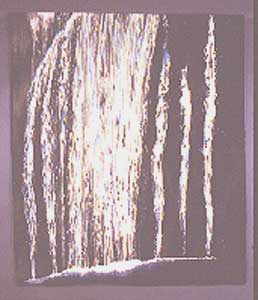 Inge Norgaard
"Energy / Falling Water"
loom woven tapestry
2002
72"x61"

Back to Previous exhibits