August 2002

Printmaker/textile artist Joan Wortis will exhibit a group of her abstract monoprint collages at the Painted Table Restaurant, 92 Madison St., downtown Seattle, during the month of August . A reception for the artist will take place on First Thursday, August 1st in the restaurant from 5:30 to 7:30 PM. Hors d'oeuvres will be served courtesy of the management. The exhibition will run through Aug. 30th.

This exhibition marks the last showing of fine art in the Painted Table. The remodeling and re-naming of the restaurant will take place during the first week in Sept. Jeffrey Moose Gallery is proud to have served in a curatorial capacity there for nine years.

Ms. Wortis is a veteran fabric designer turned painter/printmaker. She was the recipient of several awards in her early career, including a Master Craftsman Appprentice Recipient award from the National Endowment for the Arts in 1980. Her work in textiles has influenced her fine art work in interesting ways. Her prints are often brightly colored and function well as compositions partly due to complex layering and juxtaposition of textures with more concrete forms.

She cites influences from her exstensive travels as well as her interest in "...symbols, letters and characters from other cultures." Most recently, she has called upon imagery from the Kuba people of the Republic of the Congo, and used old postcard and photo imagery from India as elements in her collages. Her subjects are often letter look-alikes: "I abstract these symbols, invert them, remove them from their original context or make my own marks which are merely suggestive of meaning ."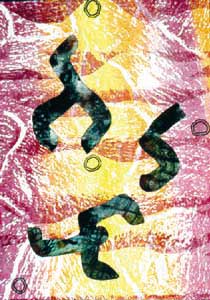 "Ascent/Descent"
© Joan Wortis
2001
Monoprint collage
18"x12".

For More Information, please call Jeffrey Moose, Director of Jeffrey Moose Gallery and Curator for the Alexis Hotel and Painted Table restaurant, at 206-467-6951.