June 2002
Bainbridge Island photographer Pete Saloutos will display a group of works, with Water as a central theme, in the Painted Table Restaurant, 92 Madison , Seattle, during the months of June and July. A reception for the artist will be held on First Thursday, June 6th , from 5:30 to 7:30 PM. Hors d'oeuvres will be provided courtesy of the restaurant.

Mr. Saloutos is a giant among commercial photographers, though his fine art talents are undeniable and compelling. A graduate of UCLA in 1969 with a History/Fine Art degree, his first exhibitions were multi media shows created from material collected during two lengthy overland trips in Europe, Asia and South America. He taught photography at Santa Monica College from 1977 to 1990.

With over 35 years as a commercial shutterbug, his career has included numerous Fortune 500 clients including Bank of America, IBM, Johnson and Johnson, Pacific Bell, NIKE, Federal Express, Newsweek, The US Olympic Committee and many others. So highly regarded is his skill that Nikon Cameras displays his photos on their website, nikonworld.com, as one of only ten "Nikon's Legends of the Lens".

Locally, Mr. Saloutos has been very active in non-profit and community causes. He has donated time, talent and artwork to benefit many issues including the preservation of wild spaces on Bainbridge Island, a photographic lab at Bainbridge High School, victims and families of victims of the 9/11 catastrophe, survivors of the recent Bainbridge Island Medivac helicopter crash and Puget Sound Environmental Learning Center, recently opened on the Island.

In his show, Mr. Saloutos will display works featuring bodies of water. The stunning card image, an aerial panoramic shot taken from a helicopter 1000 feet up, of the Grand Prismatic Geothermal Pool in Yellowstone National Park contrasts with images of Puget Sound, the Pacific and Indian Oceans.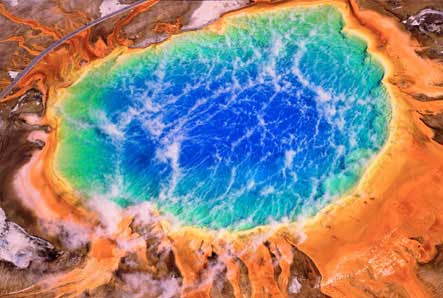 "Grand Prismatic Geothermal Pool, Yellowstone"
© Pete Saloutos.
10"x30"
panoramic photograph.

For More Information, please call Jeffrey Moose, Director of Jeffrey Moose Gallery and Curator for the Alexis Hotel and Painted Table restaurant, at 206-467-6951.