April 2002
Heather Wallis Murphy at the Painted Table Restaurant April and May 2002

US Forest Service Wildlife Biologist Heather A.W. Murphy, of the Leavenworth Ranger Station, will exhibit a group of watercolors and reproductions taken from her scientific journal, at the Painted Table Restaurant, 92 Madison St., Seattle, during the months of April and May. A reception will be held in the restaurant, with an oppurtunity to meet the artist, on First Thursday, April 4th from 5 to 7 PM.

A Forest Service employee since 1978, Ms. Murphy was raised in Washington State and graduated from the UW with a BS in Wildlife Habitat Management. Her work chronicles observations from the wilds of the Cascade Mountains; from the gigantic peaks, the deep forests and the flower-filled meadows come watercolor sketches in a style the artist describes as "folk art" rendering birds, animal tracks, pine needles and occasional vistas. Often her studies are accompanied by notes concerning the critter or plant in question. The artist reproduces her images on note cards and offset prints and has developed a following among visitors to the area near her Leavenworth Ranger Station. She has exhibited primarily east of the Cascades and had her art reproduced on the cover of Country Pleasures magazine.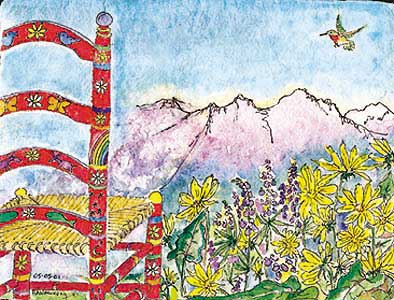 For More Information, please call Jeffrey Moose, Director of Jeffrey Moose Gallery and Curator for the Alexis Hotel and Painted Table restaurant, at 206-467-6951.