October 2001 through January 2002
Alexis Hotel Bellhop Justin Schaeffer, an art major attending the University of Washington, will open a show of his still life oil paintings at the Painted Table Restaurant, First and Madison in downtown Seattle, on First Thursday, Oct. 4th with a reception from 5:00 to 6:30 PM. The exhibition will run through November.
Mr. Schaeffer, who studied graphic arts and industrial design at Shoreline High School and Western Washington University, turning to fine art at the University of Washington, will exhibit a group of works inspired by the Painted Table and by still life arrangements composed for the BFA students at the UW. The Painted Table paintings include wines, deserts and dinnerware from the restaurant, but lack any direct references. The works are by no means simple in their compositions and have a genuine charm in their direct brush work and subtle, sophisticated color modeling.
The artist's career began at an early age. In second grade he received a City-wide public school award for his entry in the annual "Reflections" school art contest with a watercolor of the Statue of Liberty.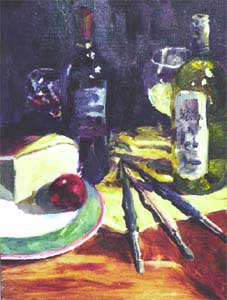 For More Information, please call Jeffrey Moose, Director of Jeffrey Moose Gallery and Curator for the Alexis Hotel and Painted Table restaurant, at 206-467-6951.