June 3rd - July 29th 2001
Multi media Seattle artist Catherine Gill will exhibit a group of her latest works, urban landscapes of Seattle neighborhoods, at the Painted Table Restaurant, 92 Madison, Seattle, Washington, from June 3rd through July 29th. A reception for the artist will be held on First Tursday, June 7th from 5 to 6:30 PM in the restaurant.
Ms. Gill is well known in the Seattle area as an artist and art teacher. She has lived in the Northwest for 20 years, painting scenes of the waterfront in the Puget Sound and traveling to paint and teach in Alaska every summer. Her primary medium is a unique blend of watercolor and pastel on paper. She also works in oil on canvas and as a printmaker produces etchings and monotypes.
Her works in this show, watercolor/pastels and monotype prints made on glass surfaces, depict scenes of the Ravenna Neighborhood, the Fremont neighborhod (the location of her studio along the ship canal) and other Seattle scenes.
Ms. Gill has exhibited at the Frye Art Museum in Seattle, the Mystic Seaport Museum, Mystic, Conn., The American Watercolor Society, New York, The Museum of the Rockies in Montana, and has had solo exhibitions at the Edmunds Art Museum, Edmunds, WA, and several other west coast locations. In 1999 Ms. Gill held two successful exhibitions in Australia at Studio 27 Gallery, Brisbane and Stafford Studios Gallery in Western Australia.
Ms. Gill has facilitated and participated in artist's exchanges with Ireland, Kuwait and soon, The Czech Republic through her company Art Partners.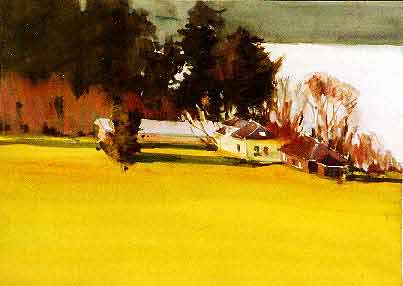 "Clear Ahead"
watercolor and mixed media on paper
2001
11"x15"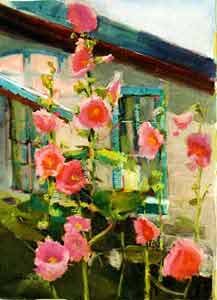 "Hollyhocks"
watercolor and mixed media on paper
2001
30"22"
For More Information, please call Jeffrey Moose, Director of Jeffrey Moose Gallery and Curator for the Alexis Hotel and Painted Table restaurant, at 206-467-6951.