April 1st, 2000
The Painted Table Restaurant, 92 Madison St., in downtown Seattle, is proud to announce an exhibition of wood and linocuts by Seattle printmaker Sam Hamrick in the dining room during the months of April and May. A reception for the artist will be held on First Thursday, April 5th, from 5:00 to 6:30 PM with hors d'oeuvres courtesy of Executive Chef Tim Kelley.
Mr. Hamrick's work is bold, primarily figurative, often humorous yet remarkably sensitive given the angular, unforgiving qualities of the medium. He has shown succesfully in Seattle for over a decade and has produced illustrations for numerous publications including The Weekly, The Stranger and The London Times .
Mr. Hamrick addresses several themes in this exhibition of thirteen images:landscapes, interiors and portraits. The landscape images include a couple of holiday scenes. "Horses in a Field" and "Winter Scene". The portraits include likenesses of Mr. Hamrick's wife, Theresa, a self portrait, an intimate scene entitled "Man Reading", and a hilarious 90's, sign- of- the -times image "Lady with a Gun". Some images are technically noteworthy for the reductive color printing technique which uses the same block for printing several colors. Mr. Hamrick's latest print is a woodcut entitled "Eve", featuring a bold Germanic style and dramatic narrative pose similar to that of Fritz Eichenberg.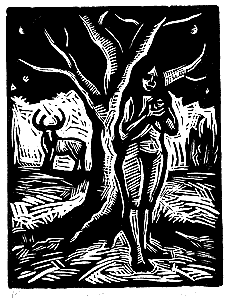 For More Information, please call Jeffrey Moose, Director of Jeffrey Moose Gallery and Curator for the Alexis Hotel and Painted Table restaurant, at 206-467-6951.