Back to previous exhibits

The Roosevelt Hotel
Sam Hamrick
An exhibit of block prints
June 16th - September 30th, 2008, Reception Thur, Sept 11th, 5;30-7:30.


The Roosevelt Hotel, 1531 7th Ave, Seattle, is proud to announce an exhibition of relief prints and collage work by Seattle printmaker Sam Hamrick to run from June 18th through September 30th. A reception for the artist will be held on Thur Sept 11th from 5:30 to 7:30 PM.

Mr. Hamrick has long worked in the medium of Relief Printing, a reductive printmaking method requiring the artist to remove information from the surface of a linoleum block, piece of wood or other hard material, which is then inked to make an impression on paper. By removing information progressively and printing each layer, a clever artist can create a full color image using a single surface. ("Skeleton with Cigatrette").

A grinning skeleton is the memorable motif in Mr. Hamrick's work. As Mr. Hamrick is a bluegrass musician, the skeleton is often depicted with an instrument, a guitar, a fiddle, an accordian. Other works are commentaries on art history (also "Skeleton with Cigatrette", a play on a Van Gogh) or fantastical creatures or illustrated letters of the alphabet and even geometric abstractions

Mr. Hamrick's unusual background certainly helped to foster his wide imagination. His father (of the same name) was a successful spy novelist and as a young diplomat, raised young Sam in the Middle East, Africa and Canada.. Mr. Hamrick's prints have been published in newspapers including The Stranger, The Weekly and the London Times.

Please refer questions to Jeffrey Moose, 206.467.6951 or jmoose@jeffreymoosegallery.com.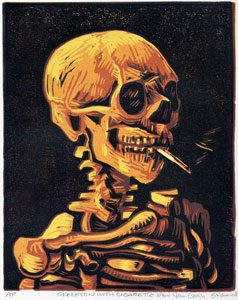 Sam Hamrick
"Skeleton with a Cigatrette"
color reduction linocut, ed. 60
8 ¼"x61/2"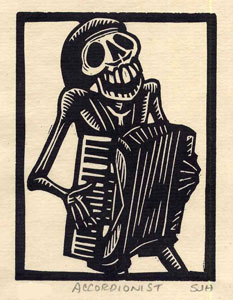 Sam Hamrick
"Accordianist"
linocut
4"x3"br>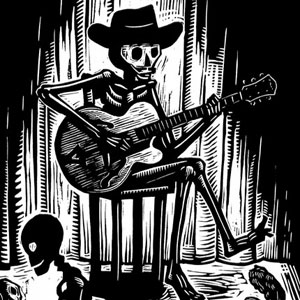 Sam Hamrick
"Guitar Bones"
linocut
9"x12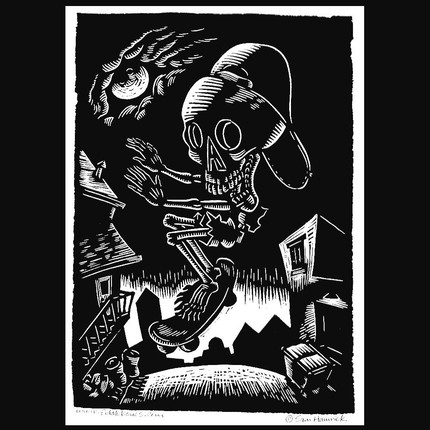 Sam Hamrick
"Skater"
11 3/4"x8 3/4"
linocut




---
---