Back to previous exhibits

Heather Murphy
An exhibit of Nature Journal studies
The Roosevelt Hotel
November 15th - February 15th, 2008

The Roosevelt Hotel, 1531 7th Ave, Seattle, is proud to announce an exhibition of artwork by former federal wildlife biologist Heather Murphy from November 15th through February 15th, 2008. A reception will be held on Thursday, Nov 15th from 5:30 to 7:30 in the hotel's Second Floor Gallery.

Ms. Murphy is well known for her wildlife journals and note cards featuring sketches and notes from wilderness observations in the Washington Cascade and Okanogen mountain ranges where she served as a Forest Service field biologist for over 30 years. Her work has been shown throughout Washington state and in 2005, Ms. Murphy was invited to teach wildlife journaling as part of the Smithsonian's annual Folklife Festival on the Mall in Washington, D.C.

Starting in 1974, Ms. Murphy's journaling has become a cottage industry with the production of greeting cards and prints. She has taught classes on journaling and observing nature for the Smithsonian Institute, The North Cascades Institute, Douglas and Chealn County Schools and The University of Washington among many. Her work has appeared in publications as varied as Country Pleasures Magazine, Smithsonian Magazine and several scientific journals.

Somewhere between scientific observation and casual studies, these remarkable works are accompanied by notes on plant and animal species, behavioral traits, anecdotes and odd facts that make the specimens seem up-close and personal. The lines and colors are rough and immediate without feeling immature. Ms. Murphy will exhibit both original journal pages and reproductions of the pages.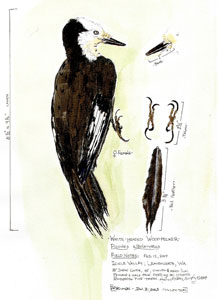 Heather Murphy
"White Headed Woodpecker"
2007
Watercolor and pen and ink on paper
9"x7"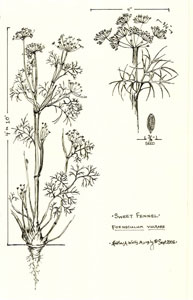 Bombatu Napangardi
"Fennel"
2006
Pen and ink on paper
10"x6"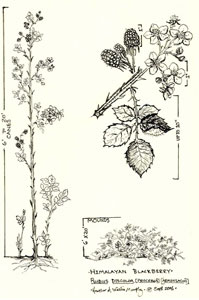 Heather Murphy
"Himalayan Blackberry"
2006
Pen and ink on paper
10"x6"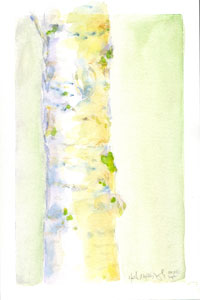 Heather Murphy
"Birch Bark"
2007
Watercolor on paper
9"x6"