Back to previous exhibits

Barbara Benedetti Newton, Darlene Morgensen and Neil Andersson
April, May and June 2006


Barbara Benedetti Newton, Darlene Morgensen and Neil Andersson will show landscapes and still lives at the Roosevelt Hotel, Seattle in April, May and June. Reception 5/18, 5:30 to 8:30 PM.

The Roosevelt Hotel, 1531 Seventh Avenue, Seattle, and Jeffrey Moose Gallery, are pleased to announce the presentation of artworks by colored pencil virtuoso Barbara Benedetti-Newton, pastel landscapes by Darlene Morgensen and oil landsapes by Neil Andersson in the hotel's second floor Gallery for the months of April, May and June. A reception will be held for the artists on Thursday, May 6th from 5:30 to 8:30 PM. The public is invited to attend.

Barbara Benedetti Newton, originally trained as a commercial artist at Burnley School of Professional Art (now the Art Institute of Seattle), is one of a handful of accomplished and all-too-rare realists in the local art scene. Her mastery of the colored pencil has won her a full page of awards and garnered the attention of collectors for over a decade. She is the author of a book on the subject of colored pencil and teaches classes at the Frye Art Museum, one of the West Coast's premier venues for representational art. A long time member of the Women Painters of Washington, Ms. Benedetti Newton has participated in numerous group shows, including a 1999 exhibit at the Frye Museum as well as scores of solo exhibitions.

Past Northwest Pastel Society President Darlene Morgensen focuses on scenes from out of the way spots on the Olympic Peninsula and the Puget Sound, often near her former home in Chimacum. Her dramatic sunsets and skilled renderings of cloudy skies put her in a league with the most sensitive of landscape artists. This group of paintings features scenes from Eastern Washington, in farm country near Yakima. Her skill has been recognized by institutions and individuals alike. She has taught and demonstrated at the Seattle Art Museum during the well-received show of Impressionist paintings and at Daniel Smith, Inc.

Neil Andersson, of Tacoma, is new to Jeffrey Moose Gallery and is connected to the gallery through the local alumni group from the School of the Art Insitute of Chicago, the alma matter of Mr. Moose. Though he is well known as the leader of Pearl Django, the Tacoma-based, internationally known Django Reinhardt-style Jazz band, his fine art pedigree is also well established w ith an undergraduate degree from the U W and an MFA from the Art Institute of Chicago, several Puget Sound teaching positions, awards and exhibition selections, including the seminal 1995 exhibition at the Tacima Art Museum, "The Land".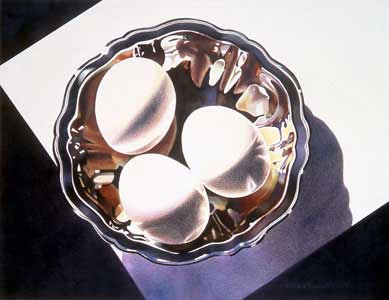 "In the Beginning"
Barbara Benedetti Newton
watercolor with mixed media on paper
12"x14"
2003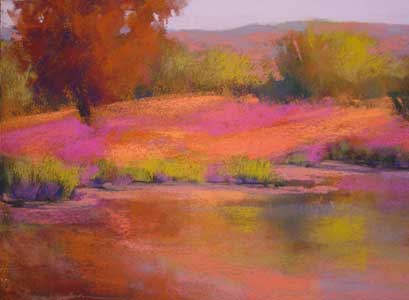 "Violet Against Orange"
Darlene Morgensen
pastel on paper
8"x10"
2002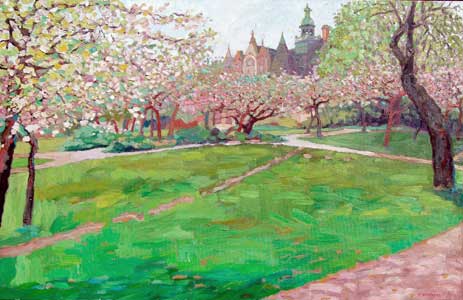 "Denny Hall, Spring"
Neil Andersson
oil on canvas
26"x32"
2000