Back to previous exhibits

Australian Aboriginal artists from October 11th through December

Jeffrey Moose Gallery, in conjunction with the Roosevelt Hotel, is pleased to announce an exhibition of paintings and prints by Australian Aboriginal artists from October 11th through December in the Second Floor Gallery of The Roosevelt Hotel, 1531 7th Avenue, Seattle.

The gallery space is open from 9 AM until 6 PM.

The exhibition includes a mix of paintings and prints from a mix of Central Desert communities, including Yuendemu and Utopia, with the reknowned Warlukurlangu Art Centre of Yuendemu heavily featured. These artists will celebrate their 20th Anniversary with work at Jeffrey Moose Gallery during the month of October, Also on display will be hand colored prints from the Torres Strait islands, work by a group of four artists, known as the Mualgau Minaral Artist Collective.

Some paintings in the exhibition were purchased on a buying trip last summer that took Mr. Moose on a grand tour of Aboriginal Australia with his father and teenage son. On display are gorgeous large-scale works by Utopia based artists Gloria Petyarreye and Rosemary Petyarreye, and Western Desert artist Sadi Carrington. Veterans Long Maggie White and Lady Robertson as well as younger talents, such as Otto Sims and Gregory Doolan represent the Warlukurlangu artists of Yuendemu.

Torres Strait printmakers Dennis Nona, Billy Missi and David Bosun, who exhibited for the first time in the United States at Jeffrey Moose Gallery in early 2003, are represented by color linocuts from their traveling show Gelam Nguzu Kazi-Dugong My Son. This body of work depicts ancient totemic stories involving a wide variety of legendary characters, fish, crustaceans and marine mammals.

For information on this exhibition please contact Jeffrey Moose Gallery, (206) 467-6951 or email to: jmoose@jeffreymoosegallery.com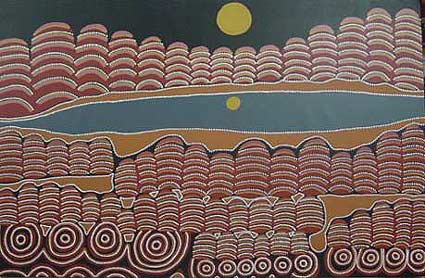 "Red Rock Castle"
Sadi Carrington
2004
Acrylic on canvas
40"x60"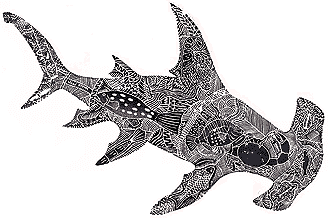 "Lagau Mabaigau Malu Aidal"
David Bosun
2002
Color linocut
17.7"x27.6"