May - June 1998
Suzanne Haddon and Richard Hestekind
Seattle painter Suzzane Haddon, a Fall City native, is known in several traditional and alternative venues for her punchy, vivid colors and her insightful, sensual treatment of people and imaginary landscapes. She is a second generation fine artist, following in the footsteps of her father, Willian Haddon. Ms. Haddon has several impressive awards and scholarships to her credit, including the annual Paul Immel Award from the Puget Sound Group of Northwest Painters, a three year scholarship to the Art Center College of Design in Pasedena, California and recent selection for inclusion in the 16th Annual Auction to benefit Pratt Fine Art Center.
She recently participated in Jeffrey Moose Gallery's Third Annual Goddesses exhibition, showing a group of her "Goddesses," imagery based on her regular evening sessions with models. The Painted Table show will feature some of Ms. Haddon's popular "Goddesses" watercolors as well as a group of new worls which combine her keen gestural line work in Sumi ink with collage elements, including Buddhist prayer money and metallic leafing. In contrast to the full figures of previous imagery, the works concentrate on selected, abstract portions of the body. The new Asian influence in her work is the result of a trip to Hong Kong and parts of China last year.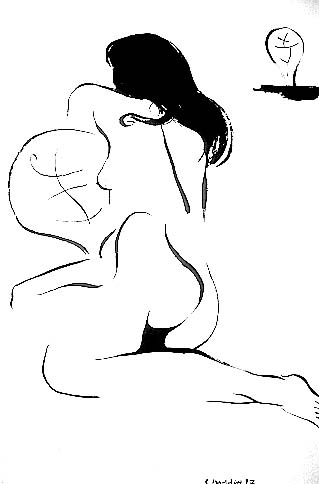 Suzzane Haddon
untitled 1997
Sumi ink on paper
40"x30"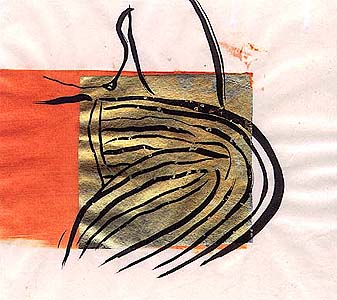 Suzzane Haddon
"Melon" 1998
Sumi ink and collage
8"x8"