February 1998
Goddesses III
featuring Suzanne Haddon, Bob Lucas, Vasily Fedorouk, Nora Sidoine-Brown and Rodney Carr-Smith
Jeffrey Moose Gallery is pleased to announce the third annual exhibition of art related to the theme of The Goddess, "Goddesses III". This exhibition will run from February 7th through March 21st. It coincides with the annual "Women of Wisdom" conference at the Seattle Unity Church Feb. 13-21st. On exhibition will be works by painters Suzanne Haddon and Nora Sidoine Brown, multimedia artist Rodney Michael Carr-Smith, sculptor and glass artist Bob Lucas and sculptor Vasily Fedorouk. A reception and celebration of The Mother will be held on Valentine's Day, Saturday, February 14th from 5 to 8PM at the gallery, 1333 5th Ave in Rainier Square on the second level.
Suzanne Haddon will present a new series of Goddess paintings, watercolors on paper, which are derived from nightly sessions with a variety of female models. Her signature style is a combination of mature, well executed gestural line work and radiant color. Sometimes set in mythical or unlikely environments, these women are proud and intelligent in the glory of their nudity. Ms. Haddon's recent trip to Hong Kong and to Mainland China is evidenced in the presence of Lotus flowers and symbols relating to Eastern Mysticism in some new works.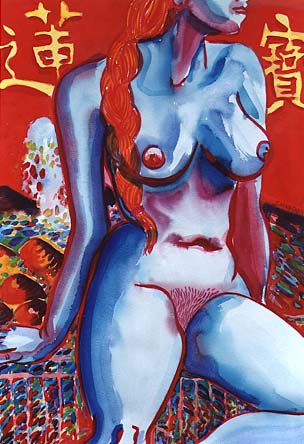 Suzanne Haddon
"Goddess of the Lotus Fountain" 1997
watercolor on paper
30"x22"