December 1997
1997 Holiday Exhibition
featuring Jan Erion and Michael Kareken
also
Rick Stafford and Meredith Earls
Jeffrey Moose Gallery will open a Holiday exhibition with a collection of fine art pirnts and other giveables the second week in December. The gallery will introduce Minnesota printmaker Michael Kareken's moody etchings and feature gallery artist Jan Erion's bold figurative collagraphs. Also on display will be Neriage porcelain by artist Rick Stafford, stone sculpture by Meredith Earls, and a variety of fine art jewelry.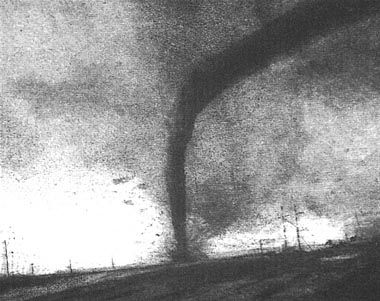 Michael Kareken
"Curved Funnel"
1997
etching
4"x5"
Michal Kareken is known for his somber, realistic etchings and drawings of places that suggest a sense of Film Noir. His biography, impressive for a young artist, boasts numerous awards including The Louise Nevelson Award in Art from The Academy of Arts and Letters in New York and the Drawing Award from the National Academy of Design. Absent in his images is any sense of historical reference; it could be yesterday or decades ago. There is a matter-of-fact menacing intensity conveyed in a group of images depicting rampaging tornadoes. As scary as they may be, the images are riveting in their clarity of vision and practically sentimental in their incarnation as black and white prints. They are mysteriously removed from the television hype which normally surrounds twisters.
Jan Erion will exhibit her exquisite collagraph monotypes featuring a variety of figurative studies in color and black and white. Ms. Erion's work is known for her use of bold, dark outlines and multi-media surfaces. The collagraph is an unusual relief printmaking method developed by a former U.W. professor. It leaves a heavy embossing on the paper which, combined with Ms. Erion's line work, creates a heavy, sculptural eftect. Recently, Ms. Erion was selected, along with a prestigious group of Seattle artists, to participate in a national Absolut Vodka advertising campaign promoting Aids awareness.