Relocation Celebration

Reception: December 16th, 2017 - from 5 to 7 pm

New Location:
181 Winslow Way E, Suite F, Bainbridge Island, Washington, 98110

360 598 4479

Tuesday - Friday 10-5:30
Saturday 11-6

Also open by appointment.


Jeffrey Moose Gallery is happy to announce a reception in celebration of its relocation to Bainbridge Island, Washington after nearly 23 years in downtown Seattle. In June of this year, the gallery moved its facilities and equipment from the two retail spaces it occupied in Rainier Square; the main exhibition space on the second level of the Rainier Square Atrium and the picture framing shop, with additional display areas, in the Rainier Square Concourse. The gallery also acquired the picture framing operation of Roby King Gallery of Winslow.

A public reception will be held on Saturday, December 16th from 5 to 7 pm at the new location in downtown Winslow, 181 Winslow Way East, Suite F, in a sun-filled space next door to Esther's Fabrics at the end of the boardwalk. Entertainment will be provided by Jazz combo Swing 49, accompanied by Kitsap talents Roger Furgeson, Mick Nicholson and Jeffrey Moose.

The show will display a mix of work: acrylic paintings by Australian Aboriginal artists of Yuendemu, landscapes in oil by Pearl Django founder Neil Andersson, blown glass by Dianne Rasmussen, and an enormous photo from emerging Bainbridge talent Michael Pichahchy, a relative of Crazy Horse.

After establishing a curatorial program at the Alexis Hotel and affiliated Painted Table Restaurant, the gallery opened in 1995, showing work by local artists and focusing on environmental subjects: landscapes, floral paintings, scientific illustrations and starting a series of shows celebrating the Goddess. Not long after opening, the gallery began showing work by indigenous artists, including Native American artists and Australian Aboriginal talents. This last topic became a favorite of Mr. Moose and proved especially popular as the Seattle Art Museum's showings of the works from the Kaplan Levy Collection gained popularity and attention from the press.

Previous to the curatorial work at the hotel and restaurant, Mr. Moose had helped to found and operate a cooperative gallery on Bainbridge Island called Net Contents Gallery, est. in 1989. The Collective worked to feature art by its members and invited artists, focusing on cultural and political topics including Revolution, Women's Rights, Recycling and Sexual Abuse. Not surprisingly, it caused a bit of a stir on the quiet, mostly rural island community, generating numerous stories in the Bainbridge Review and Bremerton Sun and occasional mentions in the Seattle PI and the Seattle Times.

Please refer questions to Jeffrey Moose, 360 598 4479 or jmoose@jeffreymoosegallery.com.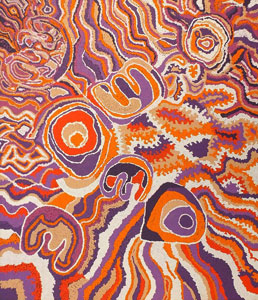 "Janganpa Jukurrpa - Brush Tail Possum Dreaming, Muwarrji"
Judith Nungarrayi Martin
Acrylic on canvas
42"x30"
2014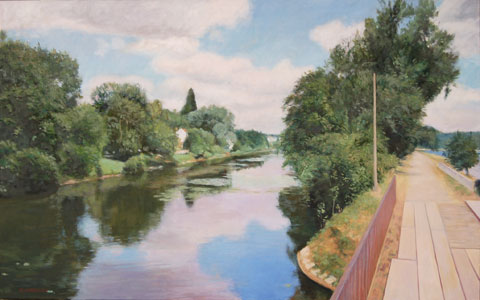 "Samois Sur Seine"
Neil Andersson
Acrylic on canvas
30"x48"
2010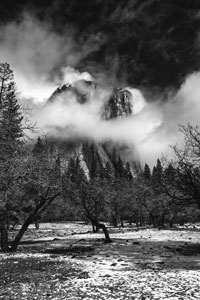 "Totokonoolah (El Capitan)"
Michael Pichahchy
Photograph, edition of 3
60"x40"
2016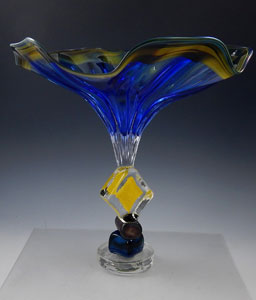 "Round Cube Vase
Dianne Rasmussen
12"h x 13"d
2017