Jeffery Moose Gallery - The Last Roundup, Part II

October 26th through - December 31st
reception TBD from 5:30 to 7:30 pm.



Through December 31st, 2016, Jeffrey Moose Gallery will show an exhibit featuring gallery artists from throughout its 21 year history, "The Last Roundup". In addition to the gallery and the "Art Mart", located in the frame shop portion of the gallery in Rainier Square Concourse, the gallery has expanded into adjacent spaces, now showing more work than ever!

In the former Michael's Bespoke Tailors space, an installation of paintings by Seattle painter Parvin features seven works whose abstract premise derives from both music and the natural world. Particularly fine are two swirling works inspired by Russian pianist Scriabin. Parvin, whose career began as an illustrator for the Pittsburgh Post Gazette and The Pittsburgh Press newspapers, received a degree from Chouinard Art Institute, now the California Institute of the Arts, alma mater of Chuck Jones, Ed Ruscha and Bob Mackie. Blown glass bowls, vases and pumpkins by Everett artist Dianne Rasmussen are also on display in that space as well as Rock n' Roll photos by Steve Schneider.

Also now on display are work by New York abstract/op artist Al Loving (now deceased), Suquamish painter/collage artist Gerry Lonning, pastel painter Karen Schroeder and gallery owner Jeffrey Moose, whose painting "Eye of the Geoduck" is featured on the new CD by Gypsy Jazz group Ranger and the Re-Arrangers.

For nearly 21 years, Jeffrey Moose Gallery has exhibited work related to the environment; landscapes in oil and pastel and Chinese ink, contemporary indigenous art by Native Americans and Australian Aboriginals, field sketches and journals from local biologists, abstractions based on the natural world and ceramics and blown glass inspired by Northwest elements and critters. With great regularity, the gallery has generated positive press and gained visibility for artists who rarely get mentioned in print, selling their work to collectors and museums in the U.S. and overseas.

Please refer questions to Jeffrey Moose, 206.467.6951 or jmoose@jeffreymoosegallery.com.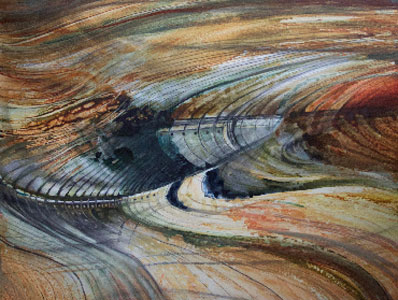 "Homage to Scriabin"
Parvin
Acrylic on canvas
40"x50"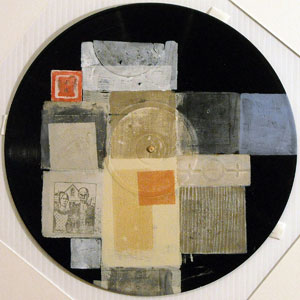 "Milton"
Gerry Lonning
acrylic
on vinyl L.P.
12" diameter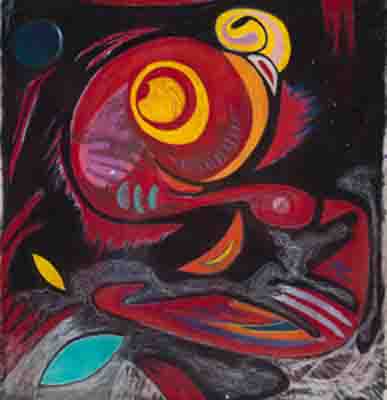 "Eye of the Geoduck"
Jeffrey Moose
Digital print
22"x21"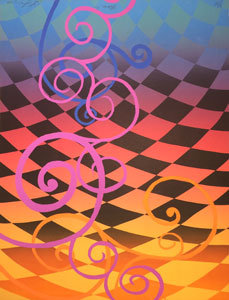 "Mara C"
Al Loving
Unique offset print for award ceremony
30"x22
2015