Australian Aboriginal art celebrating the 30th Anniversary of Warlukurlangu Artists of Yuendumu

October 22nd through January 9th, 2016
The reception for the exhibit will be held Thursday, November 12th from 5:30 to 7:30 PM


This fall Jeffrey Moose Gallery presents a show of Australian Aboriginal art celebrating the 30th Anniversary of Warlukurlangu Artists of Yuendumu, one of the original remote art centers to send "Dot Paintings" into the world beginning in the mid 1980's. The exhibit will run from October 22nd through January 9th, with a reception on Thursday, November 12th.  

Traditional ground paintings by Warlukurlangu artists made history in Paris, 1989, part of the international survey, "Magiciennes De La Terre." At this sensational exhibit of Indigenous art from throughout the world, a group of men from Yuendemu packed tons of desert earth and crushed flowers from home, shaping the material into an enormous "Ground Painting" to honor the Yarla Jukurrpa, a creation story about the bush potato.  

Dot paintings are images rendered from an aerial perspective which use symbols to represent people, animals, plants, weather systems and other forms in telling ancient creation stories. In their original form, these stories are part of the Song Lines, complex sets of story-poems recited in rhythmic pattern that link places across the Australian continent.  

This exhibit of works from the Warlukurlangu Artists includes work primarily by artists who have never shown in Seattle previously, except for Debbie Napaljarri Brown, who just had a work purchased by Seattle City Light. Interestingly, the show includes a substantial number of  dot paintings in black and white, a first for Jeffrey Moose Gallery. 

Please refer questions to Jeffrey Moose, 206.467.6951 or jmoose@jeffreymoosegallery.com.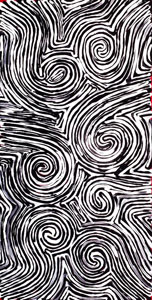 "Ngalyipi Jukurrpa / Snake Vine Dreaming-Yanjirlpirri"
Jacob Jungarrayi Spencer
Acrylic on canvas
36" x 36"
2010  






"Mina Mina Jukurrpa /Mina Mina Dreaming
Gayle Npangardi Gibson
Acrylic on canvas
36" x 30"
2012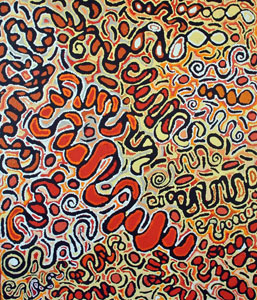 "Ngalyarrpa manu Puluku Jukurrpa / Sandhill and Bullock Dreaming"
Corrine Nampijinpa Ryan
Acrylic on canvas
60" x 24"
2015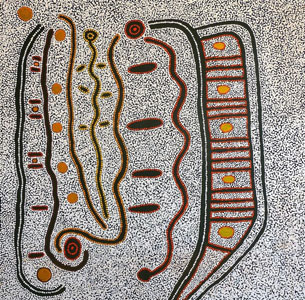 "Yarla Jukurrpa / Bush Potato Dreaming, Cockatoo Creek"
Adriana Nangala Egan
Acrylic on canvas
24" x 12"
2015
More works in this exhibit.