Randena Walsh, Karin Lowrie, and Darin Clark

June 11th through August 31st, 2015
The reception for the exhibit will be held Friday, June 26th from 5:30 to 7:30 PM


Birds and trees dominate Jeffrey Moose Gallery, 1333 5th Avenue, Seattle, for the summer as painters Randena Walsh and Karin Lowrie team up with multi media artist Darin Clark to exhibit from June 11th through August 31st. A reception will take place at the gallery on Friday, June 26th from 5:30 to 7:30 pm.  

Ms. Walsh, of Kitsap County, is a graduate of The Evergreen State College in Olympia, where she enjoyed a scholarship to study painting and natural history. Her work, in dry pastel, watercolor and pencil, focuses on Washington State landscape and the birds therein. Her work has been awarded in regional and national exhibitions for over 20 years and she is a longtime member of both Women Painters of Washington and the Northwest pastel Society.  Subtle and accurate attention to color and her ability to convey as sense of life in living things are hallmarks of her work.  

Also from Kitsap County, artist Darin Clark, of Bremerton, creates works which are part painting, part sculpture. He is a graduate of North Kitsap High School and studied at Poulsbo's Northwest College of Art. He works as a carpenter and recently started to make assemblages with scraps of reclaimed timbers. Slicing the ends off of ancient beams into thin discs, Mr. Clark then sands and colors the wood with subtle shades of milk paint, finishes with a varnish and composes the pieces in groups which are mounted to a frame and hung like a painting. By playing with coloration and carefully placing pieces with knots and branches, the artist creates tension and beauty, causing us to consider the internal structure of a once-living thing from a fresh perspective.  

Like Ms. Walsh, Karin Lowrie also grew up steeped in the natural world of our state. Her home on remote Marrowstone Island kept her neighbors with multiple species of birds, ducks and other waterfowl. She earned two undergraduate degrees at Central Washington University and a Masters Degree in Education from Lesley University. She has taught elementary school on the Olympic Peninsula for over 22 years. Her mentors and teachers include her artist father and artists Pat Sandman and Diane Ainsworth. Her thick oil studies are characterized by bold, confident gestures, seeming to be in motion.  

Please refer questions to Jeffrey Moose, 206.467.6951 or jmoose@jeffreymoosegallery.com.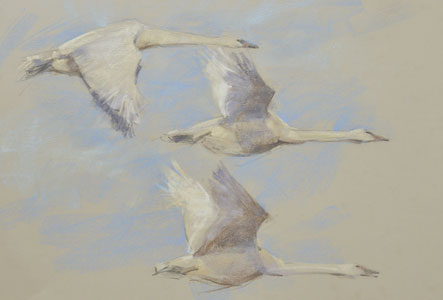 Randena Walsh
"Call of the Trumpeter"
pastel on paper
19" x 25"
2014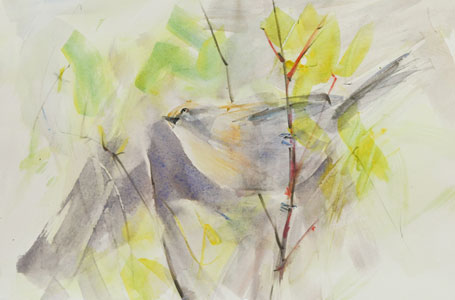 Randena Walsh
"Bushtit"
watercolor on paper
7" x 11"
2013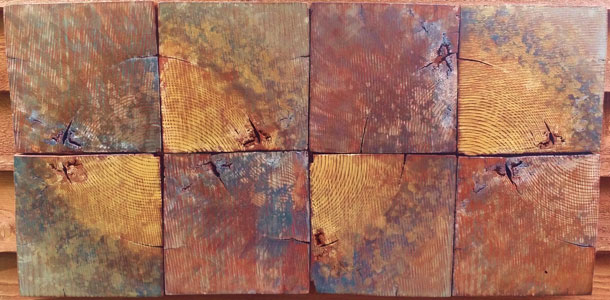 Darin Clark
"Double Back"
reclaimed fir and milk paint
16"x 31 
  2015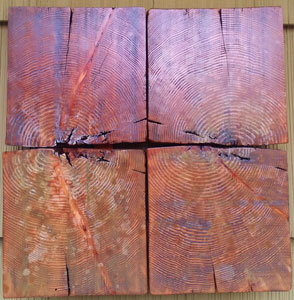 Darin Clark
"Swamped"
reclaimed fir and milk paint
14" x 14"
2015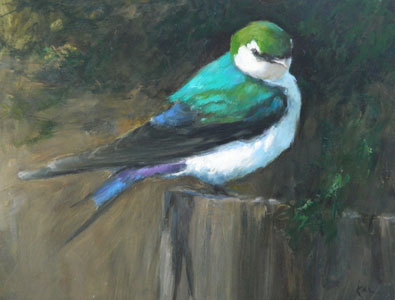 Karin Lowrie
"Violet Green"
oil on panel
9"x12"
2015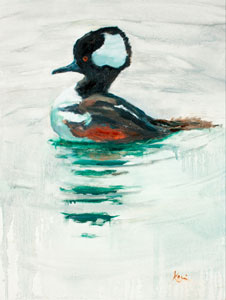 Karin Lowrie
Ruffling Up"
oil on panel
15" x 12"
2015


More works in this exhibit.