Cheri O'Brien

May 15th through September 20th, 2014
The reception for the exhibit will be held Thursday, June 12th from 5 to 7 PM


Artist Cheri O'Brien of Everett will show her paintings and sculptures at Jeffrey Moose Gallery, 1333 5th Avenue in Seattle, from May 15th through August 16th. A reception for the artist will take place on Thursday, June 12th from 5 to 7 PM.  

Ms. O'Brien's career has been successful from her early days. Her cheery, folksy but highly intelligent animals and people appeal to both adults and children. In 1998 Ms. O'Brien was named Snohomish County Artist of the Year. Ms. O'Brien has been selected for a large variety of public art projects in Washington State, including artwork in schools, cities and as a component of public transit. In 2009 and 2010, she completed an enormous public commission for Snohomish Community Transit valued at $110,000, creating 16 8x8 foot concrete bus platforms using a novel concrete painting technique.  

In 2008, after a European vacation, Ms. O'Brien immersed herself in learning the craft of painting on glass in several forms: enameled, fused and reverse-painted images. Some of the works in this show are reverse-painted images in oil on glass, a technique which renders colors that seem to glow from within.  

In the mid ninties, Ms. O'brien took paper mache classes from Mia Gallery artist Martha Shade and recently she completed some figurative sculptures of dogs in this medium which will appear in the show.  

Selected to exhibit at La Posada de Santa Fe, Georgia O'Keefe's Santa Fe gallery, Ms. O'Brien and her husband now split their time between Everett and Santa Fe. Ms. O'Brien's relationship with the gallery spans the entire 19 year history of Jeffrey Moose Gallery.

Please refer questions to Jeffrey Moose, 206.467.6951 or jmoose@jeffreymoosegallery.com.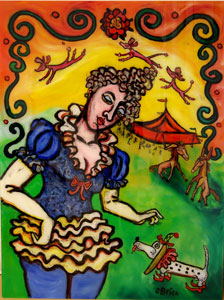 Cheri O'Brien
"Another Dog's Act II"
reverse oil on glass
48"x36"
2010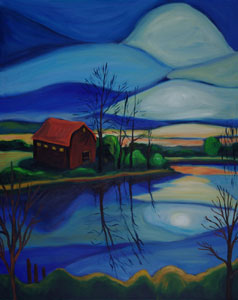 Cheri O'Brien
"Sunrise Over the Snohomish River"
oil on canvas
48"x36"
2008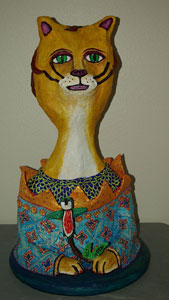 Cheri O'Brien
"Mr. Felix Catt"
mixed media sculpture
30"x18"
2014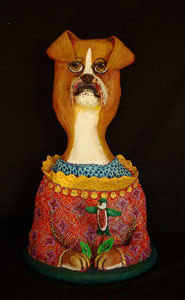 Cheri O'Brien
"The Boxer"
mixed media sculpture
31"x18"
2014


More works in this exhibit.