"Paintings About Trees"

February 12th through May 3rd, 2014
The reception for the exhibit will be held Thursday, February 20th from 5:30 to 7:30


Jeffrey Moose Gallery is proud to announce a show of paintings about trees. Seattle pastel and oil painter Barbara Bendetti Newton,  Portland surrealist painter Monte Shelton and multi media artist Darin Clark, of Bremerton will show a group of work at Jeffrey Moose Gallery, 1333 5th Ave, Seattle from February 12th through May 3rd. A reception will be held at the gallery on Thursday, February 20th from 5:30 to 7:30.

Ms. Benedetti Newton is the most highly awarded artist in the gallery with a full two pages of First Place and Purchase Prizes to her name. She has worked in pastel since the late 90's and now also works in oil. Known now for her rich Northwest landscapes, she started as a colored pencil artist. She is the author of several how-to art books and last year Barron's published Pastel Drawing: Expert Answers to the Questions Every Artist Asks. Her renderings of trees are deeply emotional in gesture and color.

Monte Shelton is a so-called visionary artist who often delves into the surreal, typically to make a point. She decrys the loss of old growth timber and many of her works side with Suess' Lorax in pointing out how greed has blinded our view of nature; "Timber/Treasure", "Energy Stump" and "Fuel/Fire" are titles of some of her more provocative works. Her distinct style is also used to render magical surreal scenes deep in the woods, revealing a bit of influence from her grad school mentor, Gaylen Hansen at WSU, where she received her MFA in 1979.

Darin Clark is a graduate of North Kitsap High School and studied at Poulsbo's Northwest College of Art. He has worked as a carpenter for many years and in the last two years started to make assemblages with scraps of reclaimed timbers. Slicing the ends off of ancient beams into thin discs, Mr. Clark then sands and colors the wood with subtle shades of milk paint, finishes with a varnish and composes the pieces in groups which are mounted to a frame and hung like a painting. By playing with coloration and carefully placing pieces with knots and branches, the artist creates tension and beauty, causing us to consider the internal structure of a once-living thing.

Please refer questions to Jeffrey Moose, 206.467.6951 or jmoose@jeffreymoosegallery.com.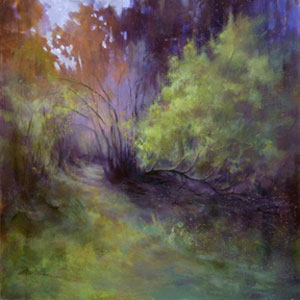 "Young at Heart"
Barbara Benedetti Newton
Oil on canvas
24"x24"
2013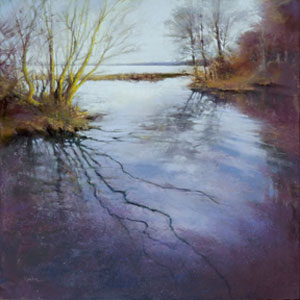 "Winter"
Barbara Benedetti Newton
Pastel on paper
25"x25"
2012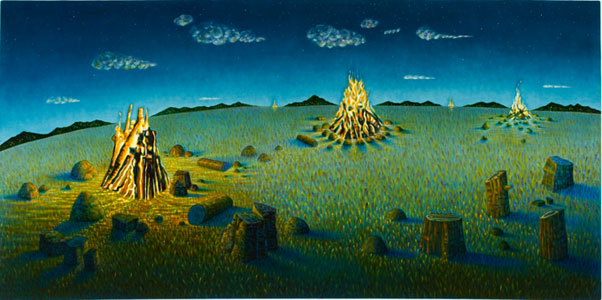 "Signal Fires"
Monte Shelton
Oil on canvas 
24"x48"
2010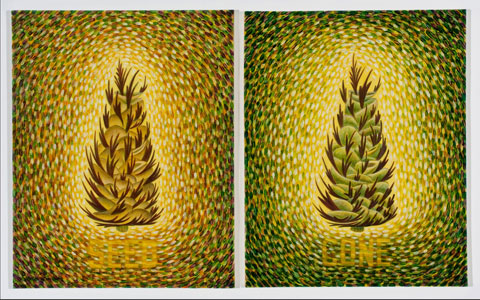 "Potential/Actualize (Seed Cone)"
Monte Shelton
Oil on canvas
20"x32"
2012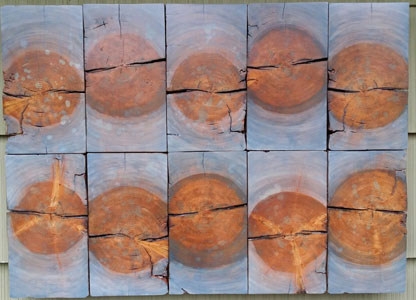 "Blueberry Park"
Darin Clark
Reclaimed timbers, milk paint, bleach, polyurethane
26"x37"
2014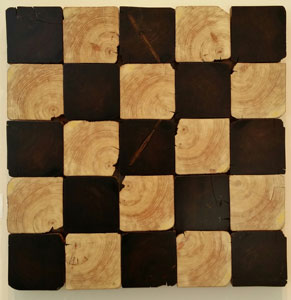 "Taxi"
Darin Clark
Reclaimed timbers, milk paint, bleach, polyurethane
28"x27"
2013