Back to Previous exhibits

Stephen Rock and Michael King

March 15th - July 6th, 2013
reception Thursday, April 4th from 5:30-7:30


Jeffrey Moose Gallery is proud to present a show of abstractions by two artists, one, a veteran of traditional and digital media, the other a Cornish student exhibiting for the first time. Stephen Rock and Michael King join forces to exhibit paintings and digital works on paper at the gallery, 1333 Fifth Avenue, Seattle, WA, from March 15th through June 15th. A reception for the artists will be held on Thursday, April 4th from 5:30 to 7:30 PM.

Stephen Rock, originally from Ellensburg, is a hot commodity with his complex digital works on paper, his paintings and even monumental sculptures he has built with his two brothers. Showing at his own recently closed Tashiro Kaplan building exhibition space, Rock/DeMent, at the SAM Rental/Sales Gallery, Foster White Gallery and currently at the Washington State Convention Center, Mr. Rock has the ability to make serious art in a startling variety of mediums and styles. The work he will show comes from two primary bodies: acrylic paintings made after a trip to Paris and digital collages based on de-constructed type and sections of newspaper. The paintings are, in many ways, precursors to the detailed, sensational newer digital works. In both series, the sum of the many components is part of Mr. Rock's message of complexity and confusing communication in our physically and philosophically overcrowded world.

Michael King, an Ohio native, is a Navy veteran who was admitted to Cornish College of the Arts under the G.I. Bill and has been in Seattle only a couple of years. Showing remarkable maturity for such a new artist, his works deal with emotional states, relationships and, simply, color and form. They are playful and serious at the same time; many of the works are an unlikely combination of abstract expressionist-style "action painting", paint dripping and blending, and a Bahaus style grid laid on the surface. Visually and conceptually, they bear interesting similarities to the works of Mr. Rock.

Please refer questions to Jeffrey Moose, 206.467.6951 or jmoose@jeffreymoosegallery.com.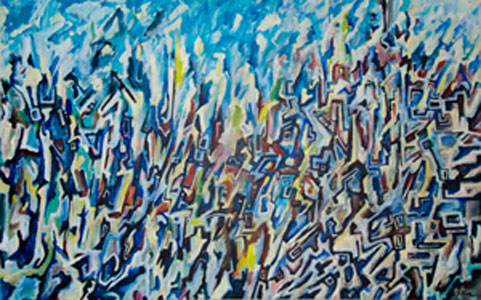 "Pilgrimage"
Stephen Rock
acrylic on canvas
57" x 92
2011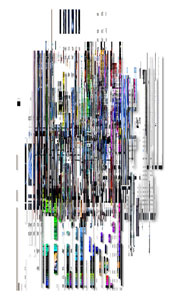 "Failed Silence"
Stephen Rock
pigmented inkjet print
63" x 35"
2012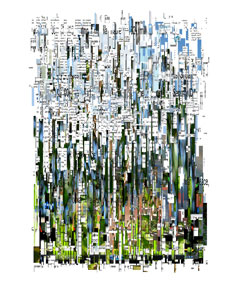 "The Daily Cloud: Arts and Entertainment"
Stephen Rock
pigmented inkjet print
23" x 30"
2012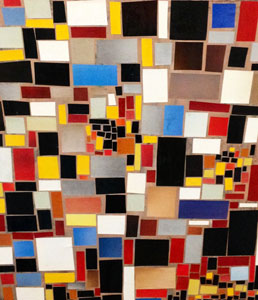 "New Shapes to Fall Into"
Michael King
collage on canvas
24"x18"
2012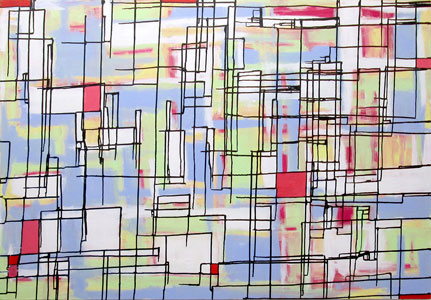 "Above the City"
Michael King
acrylic on canvas
72"x96"
2012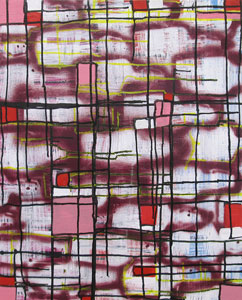 "A Dangerous Game"
acrylic on canvas
Michael King
24"x18"
2012


More works in this exhibit.