Back to Previous exhibits

'Big Country: Australian Aboriginal Art Coast to Coast'

THIS EXHIBIT HAS BEEN EXTENDED THROUGH SEPTEMBER, 2012

ARTIST RECEPTION: Thursday, June 21st from 5:30 to 8 PM

Jeffrey Moose Gallery is proud to announce its expansion into a new exhibition space, 1331 Fifth Avenue, the former downtown Foster/White Gallery space, adjacent to the original gallery in Rainier Square and the frame shop in Rainier Square Concourse. The new space is more than 4 times larger than the original gallery.

The gallery will celebrate the expansion with its most important show to date, "Big Country: Australian Aboriginal Art Coast to Coast". The show will offer over one hundred works in three separate locations representing the diversity and history of the genre. The exhibit will run from June 7th through September 1st with a reception on Thursday, June 21st from 5:30 to 8 PM. Art will be displayed in the new space, as well as the original gallery at 1333 5th Avenue and in the Rainier Tower Mezzanine.1301 5th Avenue.

Music for the "Big Country" reception and exhibition environment is provided by Portland's DJ Waater, url: waater.us.

The exhibit reflects some of the spectacular works in the upcoming Seattle Art Museum exhibition "Ancient Modern: Australian Aboriginal Art from the Kaplan Levi Collection" and was curated by Mr. Moose together with some of the Australian curators who assisted Bob Kaplan and Margaret Levi in building their collection.

The central desert community of Papunya, where the dot painting movement began in the early 70's, is represented by Clifford Tjapaltjarri Possum, his brother Tim Leura, Leura's protégé Gordon Campbell and George "Hairbrush" Tjungarrayi. Emily Kame Kngwarreye, who's works are frequently compared to abstract expressionists, her bother Kudditiji, Gloria Petyarre and Lindsay Bird Mpetyane represent the community of Utopia. Paddy Japaljarri Sims, his wife, Bessie Nakamarra Sims, Paddy Japaljarri Stewart and Shorty Jangala Robertson are among those representing Yuendemu, the community which made history by constructing enormous traditional ground paintings in European and American museums in the 80's and 90's.

Artists from Arnhem Land, in the far northwest, like Jimmy Njiminjuma, George Ganyjibala and Narrawu Wanambi have worked with natural orchre paint on flattened eucalyptus bark, possibly for centuries. Nearby neighbors of the Tiwi Islands have used similar materials, but employed their own unique system of symbols to tell creation stories also represented in the exhibition. Further to the south, in the Kimberly and the western desert, artists such as Rover Thomas (first Aboriginal artist to represent Australia at the Venice Bienale), Charlie Tjapangati, Bai Bai Napangarti and Jimmy Nerrimah worked with a combination of solid brush strokes and dots to render their creation stories. From Queensland in the far east of Australia come paintings from Rosella Namok and prints by urban artist Arone Meeks and Torres Strait islander Glen Mackie as well as a rare possum hair hat by an unknown artist from Mornington Island.

Please refer questions to Jeffrey Moose, 206.467.6951 or jmoose@jeffreymoosegallery.com.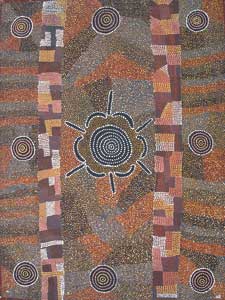 "Women's Ceremony, Ulurutjarra"
Gordon Campbell
Acrylic on canvas
47 3/4' x 35 1/2"
1987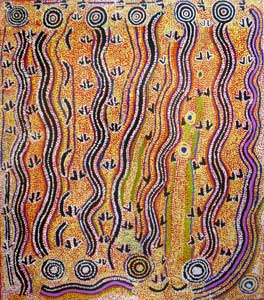 "Marla Jukurrpa-Rock Wallaby Dreaming"
Paddy Japaljarri Sims
Acrylic on Belgian linen
48' X 42 1/8"
2006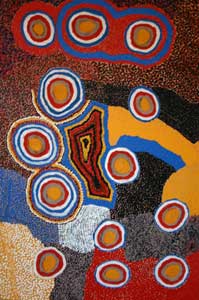 "Mukuri"
Bai Bai Napangarti
Acrylic on canvas
47 1/4" x 31 1/2"
1995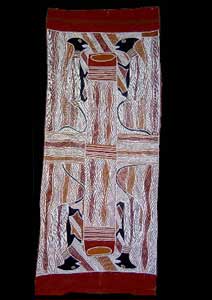 "Marrnju at Djarrakpi"
Narrawu Wanambi
Natural earth pigments on bark
42 1/8" x 17 3/8"
1990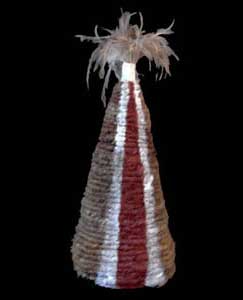 Mornington Island Ceremonial Headdress
artist unknown
bark, hair, fibre, ochres and Emu feathers
20 1/2" x 7 3/4"
date unknown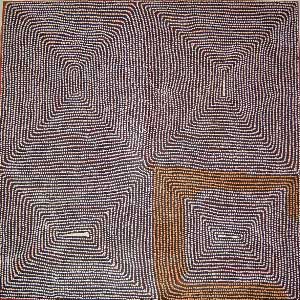 "Tingari"
Charlie Tjapangati
acrylic on linen
48" x48"
2003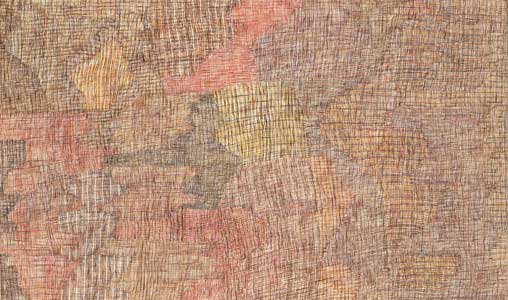 "Syaw-Fish Net"
Regina Wilson
acrylic on linen
47 1/8" x 79 1/8"
2004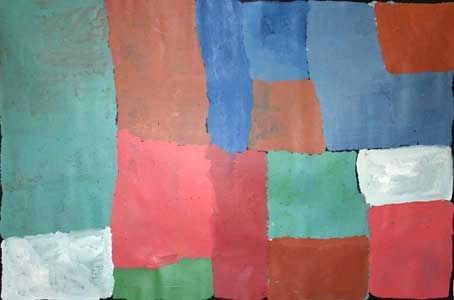 "My Country"
Kudditji Kngwarreye
acrylic on linen
47 1/2" x 71 3/8"
2007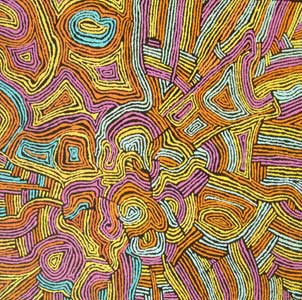 "Kurrkara Jukurrpa- Desert Oak Dreaming"
Mary Napangardi Brown
acrylic on canvas
47 1/2" x 41 1/2"
2009





"Ngapa Jukurrpa-Water Dreaming"
Shorty Jangala Robertson
acrylic on canvas
71" x 24"
2008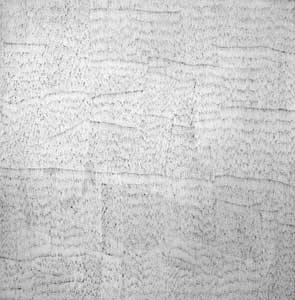 "Sandhills"
Lilly Napangardi Kelly
acrylic on linen
48" x 48"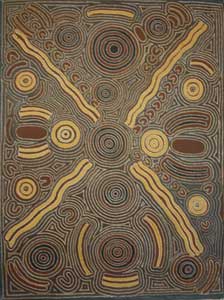 "Men's Dreaming"
Cowboy Loy Pwerl
acrylic on linen
48" x 35 1/4"
1993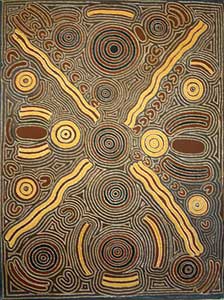 "Men's Dreaming 2"
Cowboy Loy Pwerl
acrylic on linen
48" x 35 1/4"
1992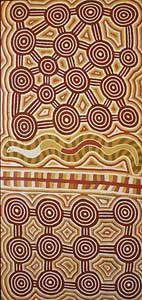 "Tingari"
Ray JamesTjangala
acrylic on linen
60" x 28"
1994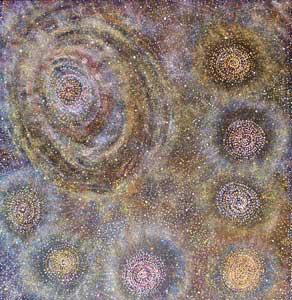 "Yanjirlpirri Jukurrpa-Star Dreaming"
Alma Nungarrayi Granites
acrylic on canvas
48" x 48"
2011





more works in this exhibit