Back to Previous exhibits

Geoffrey Pagen and Rick Stafford

March 15th - May 26th, 2012
ARTIST RECEPTION: Thursday, March 29th, from 5:30 to 7:30

In celebration of the 46th annual National Council on Education for the Ceramic Arts(NCECA) conference in Seattle this March, Jeffrey Moose Gallery presents a special show of work from Geoffrey Pagen and Rick Stafford. I have known these two ceramic artists for decades and watched as their careers developed. Both artists have solid West Coast pedigrees. Mr. Pagen, born in San Jose,CA, received a BFA from University of Puget Sound then an MFA at RISD with Jun Kaneko. Mr. Stafford studied with Richard Fairbanks at Central Washington University. Both are influenced by Asian forms and philosophies.

They are masters of technical matters yet offer startling, original visions. Mr. Pagen, who has taught at Reed College since 1979, is an artist whose work exists somewhere between ceramics, sculpture and painting. He is tough to define as he works with panels of clay that are textured and glazed then wall-mounted, removing them from the free-standing world of conventional ceramic art. His painterly approach shows the influence of the Abstract Expressionists.

Rick Stafford, born in Seattle now living on Bainbridge Island, has mastered the fine points of Neriagé and Nerikomi porcelain, Japanese techniques that use natural colors in different clays to create design. Over many years, he has fine-tuned a technique that fuses his surface design from ceramic into glass, arresting the temperature just short of disaster in the formation of works both functional and decorative. Some works are influenced by natural themes while a new series takes cues from Navajo blankets.

Please refer questions to Jeffrey Moose, 206.467.6951 or jmoose@jeffreymoosegallery.com.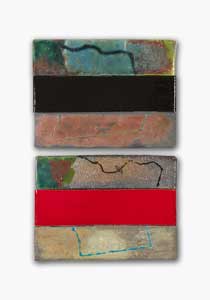 "Carbon"
Geoffrey Pagen
ceramic
29" x 19" x 2"
2010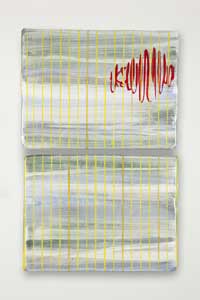 "Ruvubu"
Geoffrey Pagen
Ceramic
30" x 20" x 2"
2012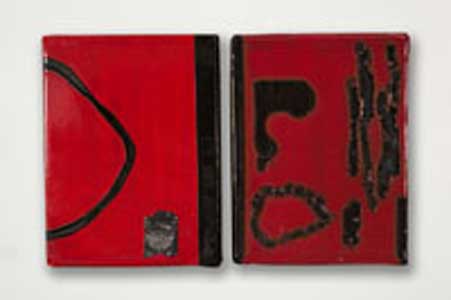 "Red Banks"
Geoffrey Pagen
Ceramic
19" x 29" x 2"
2010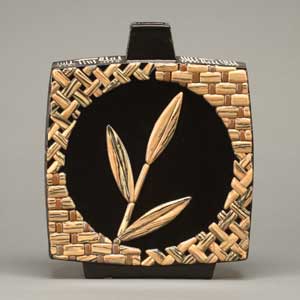 "Bamboo Vase"
Rick Stafford
fused Nerikomi applique
12" x 10"x 3"
2011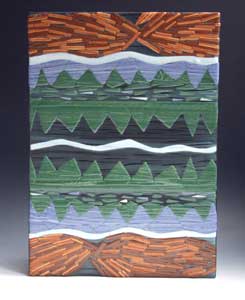 "Puget Sound Mill"
Rick Stafford
fused Nerikomi applique
20" x14"
2011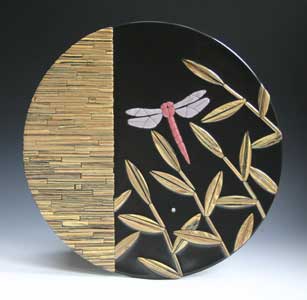 "Round Bamboo"
Rick Stafford
fused Nerikomi applique
19" diameter
2011





more works in this exhibit