Back to Previous exhibits

"Town and Country: Australian Aboriginal art from Cairns and Yuendemu"

October 14th through March 10th
ARTIST RECEPTION: Thursday, October 20th, from 5:30 to 7:30

Jeffrey Moose Gallery returns to Australia for a show of contrasting artworks entitled "Town and Country". Traditional small paintings by a variety of Aboriginal artists from the Warlukurlangu Artists cooperative in the remote Central Desert settlement of Yuendemu will be exhibited alongside monoprints, linocuts and etchings by urban Aboriginal artist Arone Meeks who resides in the coastal city of Cairns in Queensland. The exhibit will run from Friday, October 14th through January 7th, 2012. A reception will be held on Thursday, October 20th from 5:30 to 7:30 PM.

While the gallery has shown work by the Desert-based Warlukurlangu artists for fifteen years, it has only shown work by Arone Meeks in tiny glimpses. Mr. Meeks is a formidable force in contemporary Australian art with an exhibition history dating to the late 70's. He was one of the first indigenous artists to receive a residency at the Cité Internationale Des Arts, Paris where he has also shown at the Australian Embassy three times since 1978. Truly well educated with a BA degree in the arts, Mr. Meeks has become a master at various printmaking media including etching, relief printing and monoprinting, which perfectly suits his excellent skills as a painter. Crucial to understanding Mr. Meeks are his dual identities as a Kuku Midigi tribal member from far north Queensland and his role as a gay indigenous person who has spoken out forcefully on issues of gay indigenous rights and AIDS Awareness. His partner of 19 years died from AIDS in the late 90's. This fact has colored much of his work since then.

Well represented in the Seattle Art Museum display of the works from the Australian Aboriginal collection of Bob Kaplan and Margaret Levy, Warlukurlangu artists have been at the historical edge of the Aboriginal art scene, with elders traveling to Paris in 1989 and San Francisco in 1999 to install enormous ground-paintings composed of earth and crushed flowers. Acrylic paintings on canvas, based on these ground-paintings, by well known artists including the elder Bessie Nakamarra Sims and younger talents such as Karen Napaljarri Barnes and Geraldine Napangardi Granites will be on display.



Please refer questions to Jeffrey Moose, 206.467.6951 or jmoose@jeffreymoosegallery.com.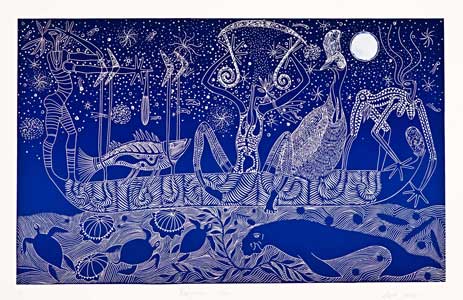 "Navigation Story"
Arone Meeks
linocut, edition of 35
17 1/4"x29 1/16"
2010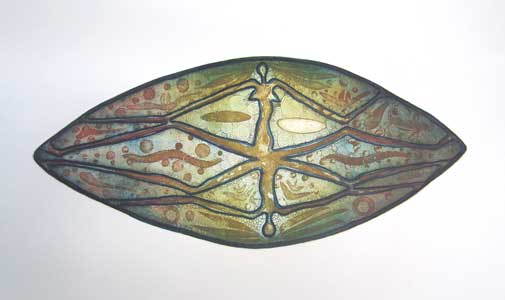 "Boab / Shield / Lovers"
Arone Meeks
etching, edition of 25
30"x22"
2001-2011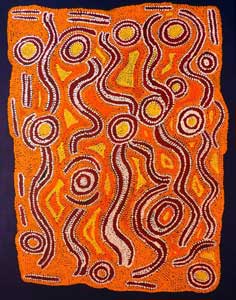 "Ngarlajiyi Jukurrpa - Bush Carrot Dreaming"
Bessie Nakamarra Sims
Acrylic on canvas
42"x30"
2010




"Ngalyipi Jukurrpa - Snake Vine Dreaming, Purturlu"
Geraldine Napangardi Granites
Acrylic on canvas
48"x12"
2011





more works in this exhibit