Back to Previous exhibits

Chris Kent

July 13th through October 1st.
ARTIST RECEPTION: Thursday, July 21st from 5:30 to 7:30

Jeffrey Moose Gallery is proud to introduce Oklahoma Painter Chris Kent with a solo show of mixed media paintings July 13th through October 1st. A party with live music from Ranger and the Re-Arrangers will celebrate the event on Thursday, July 21st from 5:30 to 7:30.

Full of fun energy and color, Mr. Kent's works are influenced by graffiti, hot-rods and motorcycles, skateboarding, cartoons and his upbringing in rural Oklahoma. Hard to describe as they mix representational and abstract elements, his work is both commentary on mark-making and acknowledgement of the ever-present commercial reality of today's life. Many works in the show relate to his newest series concerning the Lazy Boy chair, the famous reclineable living room fixture. Images of the chair, both fully modeled and in outline, are juxtaposed against an incongruous dripped-paint background. Other paintings depict iconic Seattle architecture, Rainier Tower and the downtown library, in caricature.

A group of smaller, mixed media works on paper are taken from the artist's sketchbook and feature unusual, iconic emblems resembling biker tattoos or punker logos.

A veteran of the US Airforce's space-based radar program and a weekend driver for AAA, Mr. Kent is as handy with a paintbrush as he is with a wrench or a computer. All the more fascinating, for someone born in the small town of Big Cabin Oklahoma.



Please refer questions to Jeffrey Moose, 206.467.6951 or jmoose@jeffreymoosegallery.com.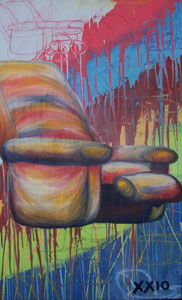 Chris Kent
"Big Lay-Z Boy"
oil and acrylic on canvas
50"x31"
2011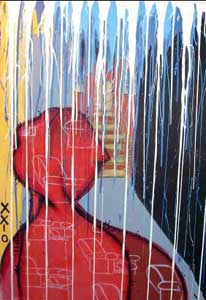 Chris Kent
"Redman Lazyboy"
mixed media
46"x31"
2010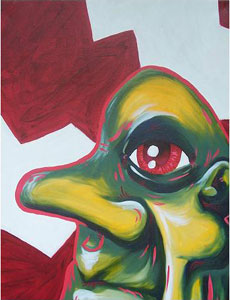 Chris Kent
"Anti"
oil on canvas
32"x24"
2011c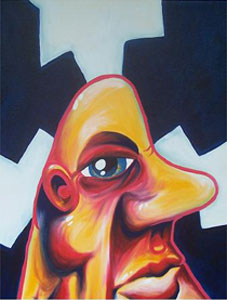 Chris Kent
"Pro"
oil on canvas
31"x24"
2011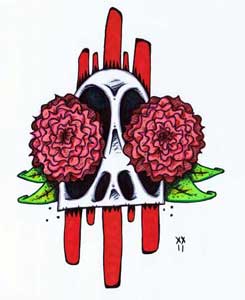 Chris Kent
"Red-Stripe Skull"
ink and marker on paper
11"x8"
2011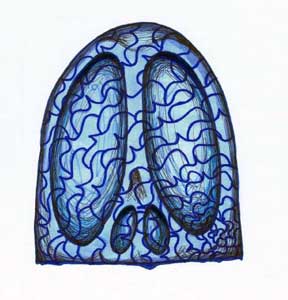 Chris Kent
"Blue Skull"
ink and marker on paper
11"x8"
2011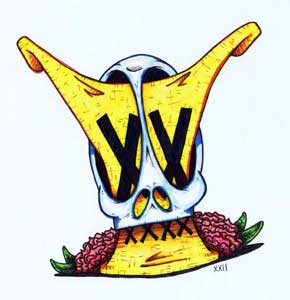 Chris Kent
"Bald Skull"
ink and marker on paper
11"x8"
2011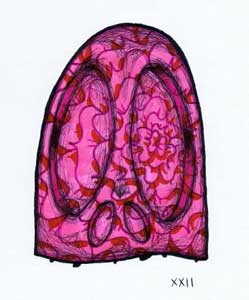 Chris Kent
"Pink Skull"
ink and marker on paper
11"x8"
2011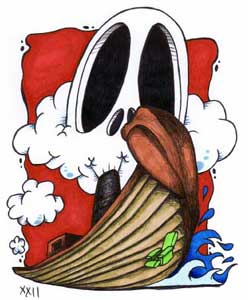 Chris Kent
"Nordic Skull"
ink and marker on paper
11"x8"
2011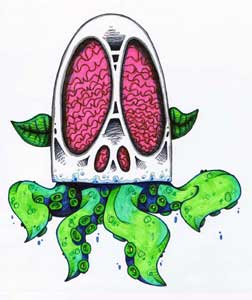 Chris Kent
"Octo Skull"
ink and marker on paper
11"x8"
2011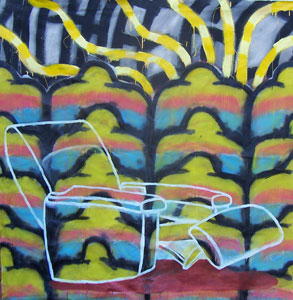 Chris Kent
"Kill the Ego"
oil and acrylic on canvas
62"x60"
2010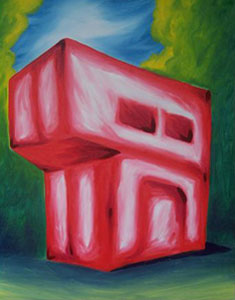 Chris Kent
"Modern Red"
oil on canvas
31"x26"
2011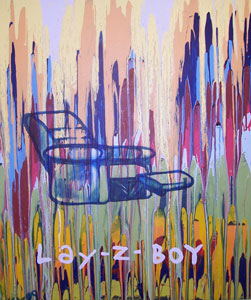 Chris Kent
"Lay-Z Boy"
oil and acrylic on canvas
31"x26"
2011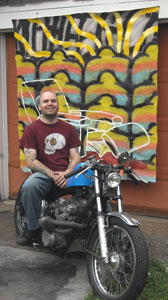 Portrait of Chris Kent.
Photo by Jeffrey Moose,
2011