Back to Previous exhibits

Zenadh Kes (Torres Strait Islanders) Glen Mackie, Billy Missi and Justin Majid
Australian Aboriginal artists from the Torres Strait Islands
"Vinylcut prints telling traditional family and regional stories"

November 11th through January 29th.
ARTIST RECEPTION: Thursday, November 18th, 5:30-7:30

Printmakers Glen Mackie, Billy Missi and Justin Majid , Torres Strait islanders from far North Queensland, Australia, will show a group of linocuts ("vinylcuts", in fact) depicting family and regional creation stories from November 11th through January 29th at Jeffrey Moose Gallery, 1333 5th Avenue, Seattle. A reception will be held Thursday, November 18th, 5:30-7:30.

Rich in symbolism and local legend, the prints depict an extraordinary variety of sea creatures and maritime heroes. Manatees, hammerhead sharks, sea turtles, skates, crabs , octopi and many species of fish are depicted swimming in ornate fields of decorative patterns that are specific to various families and regions. Not unlike the Dreamtime stories of Australia's Central Desert, these Creation stories are the heart and soul of Torres Strait culture.

The works were all printed in Cairns, Australia, site of a highly anticipated regional arts fair each August. Master printer Theo Tremblay, an expatriate from Cambridge, MA, moved to Australia in the 70's and has had a big hand in the development of Aboriginal printmaking ever since. All three artists work at Mr. Tremblay's studio, Editions Tremblay/No Fixed Press. Works from this print studio have been acquired by all the most important collections of Australian Aboriginal art worldwide.



Please refer questions to Jeffrey Moose, 206.467.6951 or jmoose@jeffreymoosegallery.com.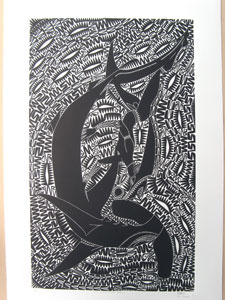 "The Coming of Sigai" (Hammerhead Shark)
Glen Mackie
vinylcut print
39" x 24", edition of 60
2008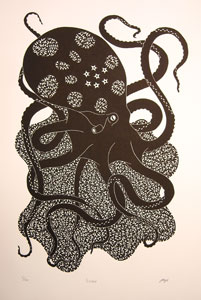 "Sugu"
Justin Majid
vinylcut print
24"x16", edition of 50
2010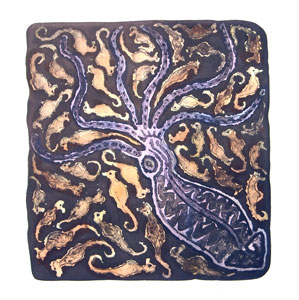 "Dhamu Kodalal Ar Biydai"
Billy Missi
Color lithograph
15"x13 7/8", edition of 50
2010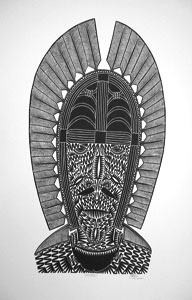 "Dhoeri (headdress)"
Glen Mackie
vinylcut print
image 23.2"x14.5"
paper 31.8"x23.6"
2009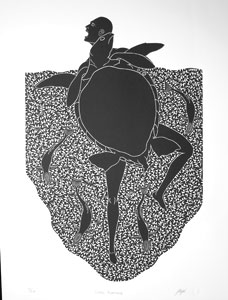 "Waru (hunting turtle)"
Justin Majid
vinylcut print
image 21.7"x14.5"
paper 30"x22.5"
2010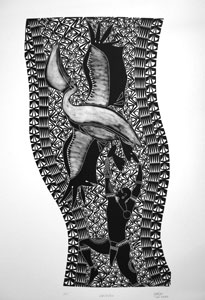 "Amipuru (pelican story"
Glen Mackie
vinylcut print
image 35.4"x18.5"
paper 47.2"x31.4"
2008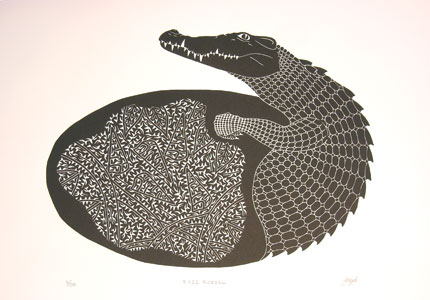 "Kazi Koedal (crocodile egg)"
Justin Majid
vinylcut print
image 12"x17.2"
paper 21.6"x24"
2010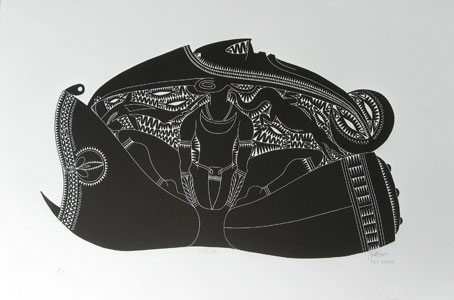 "Cargo (drum)"
Glen Mackie
vinylcut print
image 16.9"x29.1"
paper 27.5"x39.3"
2009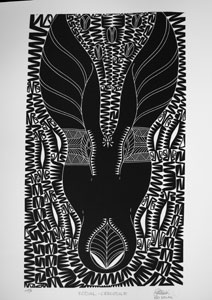 "Kodal (crocodile head)"
Glen Mackie
vinylcut print
image 21.2"x11.8"
paper 29.9"x18.8"
2008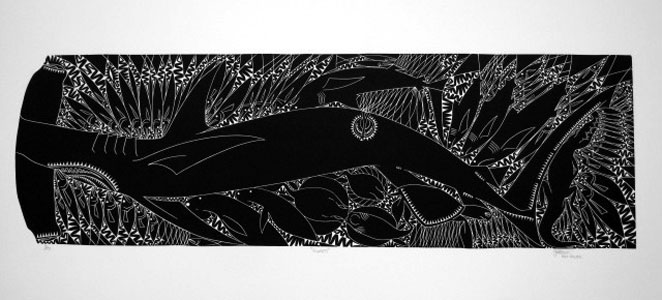 "Kurrs (hammerhead shark)"
Glen Mackie
vinylcut print
image 11.8"x38.5"
paper 21.2"x47.2"
2009




more works in this exhibit