Back to Previous exhibits

Australian Aboriginal Paintings
An exhibition of Australian Aboriginal paintings from Yuendemu and Papunya, NT

October 29th through February 27th, 2010

Jeffrey Moose Gallery is bringing in more Dots! On Thursday November, 5th, the gallery will unveil a special show of works from six central Desert Masters. Four veterans, Shorty Jangala Robertson, George "Hairbrush" Tjungurrayi, Margaret Loy Pula and Lilly Napangardi Kelly will be joined by a younger talent, Ormay Nangala Gallagher for a show to mark our fourteenth year in business.

This is a watershed year for Australian Aboriginal art in the U.S. as four major exhibitions are now underway on the east coast. A major contemporary survey show sponsored by the Australian Government at American University in Washington, D.C., a historical show of work by Papunya Tula artists at New York University's gallery, a show at the National Women's Museum (also in DC) and a private gallery show in Manhattan of multi media work by contraversial political artist Richard Bell.

Works will be displayed in all three exhibition spaces: the main gallery, on the second floor of rainier Square, the Jeffrey Moose Gallery Frame Shop and Gallery (formerly the Jeffrey Moose gallery Art Mart) in the Rainier Square Concourse (newly re-opened after a six month closure) and enormous, museum scale works will be displayed in the Rainier Tower Mezzanine, 1301 Fifth Avenue, adjacent to the elevator lobby.

Shorty Jangalla Robertson, famous for a nearly 20 year hiatus from the arts, stormed back into the scene six years ago in the Warlukurlangu Co-op, creating sensation, whjle George Hairbrush Tjungurrayi has been quietly and carefully developing his trance-like style in Papunya since the early 80's to the point that Aboriginal Art Collector Magazine recently dubbed him "the most collectible" artist of the Desert.

Please refer questions to Jeffrey Moose, 206.467.6951 or jmoose@jeffreymoosegallery.com.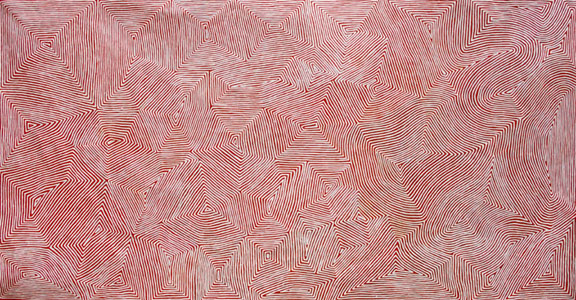 "Tingari Cycle"
George "Hairbrush" Tjungurrayi
acrylic on canvas
81"x154"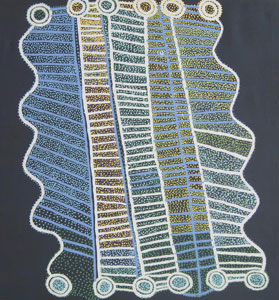 "Ngapa Jukurrpa"
Shorty Jangala Robertson
acrylic on canvas
60" x 60"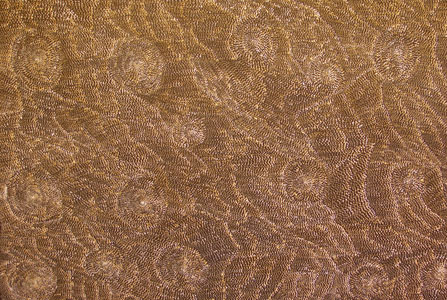 "Tali / Sand Hills"
Lilly Kelly Napangardi
acrylic on canvas
48"x72'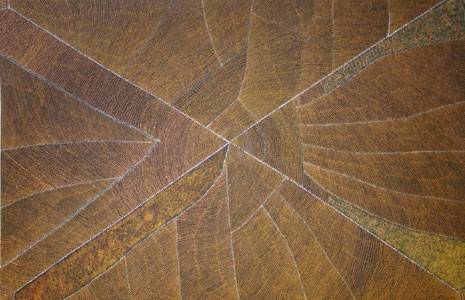 "Anatja / Bush Potato"
Magaret Loy Pula
acrylic on canvas
48"x72"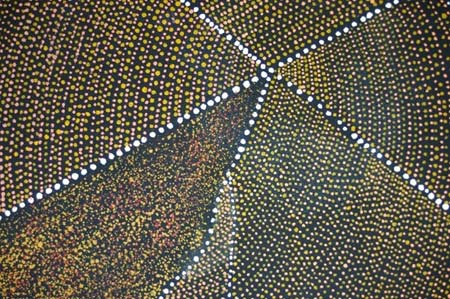 "Anatja / Bush Potato" (Detail)
Magaret Loy Pula
acrylic on canvas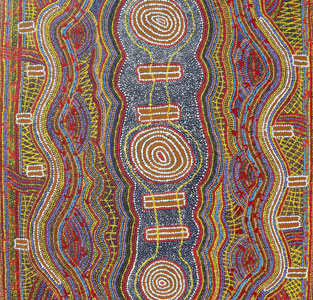 "Emu Dreaming / Yankirri Jukurrpa"
Ormay Nangala Gallagher
acrylic on canvas
42"x42"


more works in this exhibit