Back to Previous exhibits

Glass artist Dianne Rasmussen and Painter Karen Schroeder
An exhibition of blown and fused glass, landscape and abstract paintings

July 16th through October 10th, 2009
Artist Reception Thursday, July 21st 5:30-7:30


Please refer questions to Jeffrey Moose, 206.467.6951 or jmoose@jeffreymoosegallery.com.

Snohomish County artists Dianne Rasmussen and Karen Schroeder will team up for an exhibition at Jeffrey Moose Gallery, 1333 5th Ave, Seattle, to run from July 16th through September 12th. Ms. Rasmussen will exhibit a large variety of glass work including decorative fine art pieces as well as utilitarian items such as goblets, trays and service items for entertaining. Ms. Schroeder will also serve variety, with Whidbey Island and Northwest landscapes in pastel mixed in with newer oil stick and pastel abstractions on paper.

Ms. Rasmussen, who earned a B.A. in Fashion Design and Merchandising from Western Washington Univeristy in 1987, has exhibited for twenty years, assisted for glass artists Bob Mitchell, Dan Bergsma and the B.C. firm of Sterloff, Studer and Brown and taught classes at Pratt Fine Arts Center. She is known for detailed, layered pedestals on her works, composed of alternating floral, aquatic and abstract motifs. In addition, she produces a wide array of functional, slumped glassware, including goblets and party services.

Karen Scroeder has a fascinating background, far outside the realm of most fine artists: she worked for decades as one of the first female guards in the Federal Prison system. She has been active for many years as a Signature member of the Northwest Pastel Society, serving as a Vice President, as an educator and in other positions. A resident of Whidbey Island, Ms. Schroeder depicts her own Snohomish County scenery as well as other locales around the Northwest. Recently, she has begun to use oil sticks, oil paint and even digital media to render abstractions of her beloved landscape.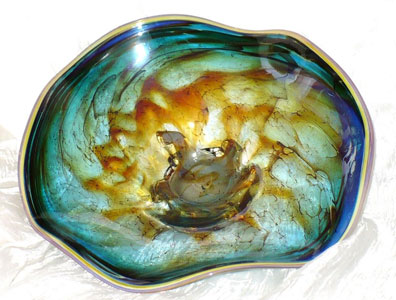 Dianne Rasmussen
"Mediterranean Summer"
blown glass
18"x10"
2009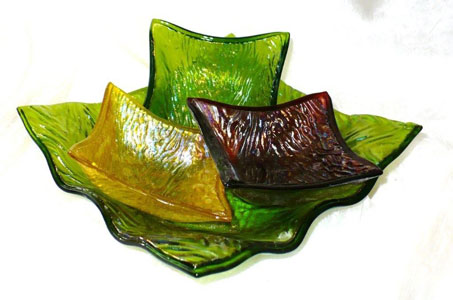 Dianne Rasmussen
Party Trays
12"x12" and 5"x5"
fused, slumped glass
2009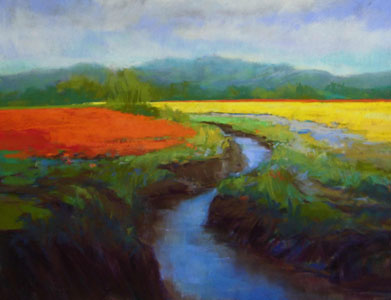 Karen Schroeder
"First Spring Color"
pastel on paper
29"x35"
2009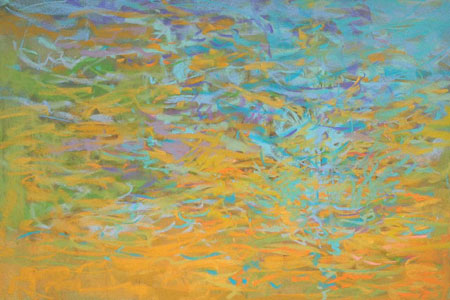 Karen Schroeder
"Reflections of Color"
pastel and oil stick on paper
24"x30"
2009


more works in this exhibit