Back to Previous exhibits

Barbara Benedetti Newton and Neil Andersson
An Exhibition of landscapes in pastel on paper and oil on canvas

Sep 24th - Nov 8th, 2008
Reception Thursday, Sep 25th, 5:30 to 7:30 PM.


Please refer questions to Jeffrey Moose, 206.467.6951 or jmoose@jeffreymoosegallery.com.

Pastel virtuosos Barbara Benedetti Newton and Painter/Jazz Musician Neil Andersson will show a group of new works at Jeffrey Moose Gallery, 1333 5th Ave. Rainier Square, Seattle, WA from September 24th through November 8th. A reception for the artists will be held on Thursday, Sept 25th from 5:30 to 7:30.

Barbara Benedetti Newton is a prolific, multiple award-winning artist in pastel and colored pencil and recently acrylic paint. Her specialties are landscape and still-life. Her precise photorealistic approach to colored pencil is contrasted with her more expressionist, gestural style as a pastel and paint artist. Barbara"s subject matter stays close to her home in the Pacific Northwest, often featuring bucolic scenes of rivers, marshes and costal areas.

In July, she received the Bill McEnroe Award in the Northwest Pastel Society's 22nd International Open Exhibit and she will be showing in the First Annual Signature /Distinguished Pastelist Invitational Exhibition in August. Over the summer, Barbara juried/judged the Capitol City Visual Arts Exhibition, Olympia, the Kitsap Arts & Crafts Festival, Port Gamble, and the Western Washington State Fair Art Show, Puyallup. Last year marked her induction to the Signature Member level of the Northwest Pastel Society.

Neil Andersson holds an MFA from the School of the Art Institute of Chicago in Landscape Painting and favors scenery from France, sometimes turning to Puget Sound for imagery. When not painting, he leads the well-known Gypsy Jazz group Pearl Django. He is part Native American, descended from the Salish Kootenai of Montana. His work focuses on earth and water; most of his best depict bucolic river scenes of slow moving, wide water and lush summer foliage. His technique is realistic but not photographic, sentimental but not corny.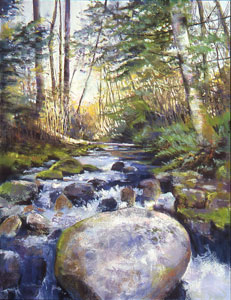 Barbara Benedetti Newton
"Boulder View"
Pastel on paper.
24 1/2"x19" 2008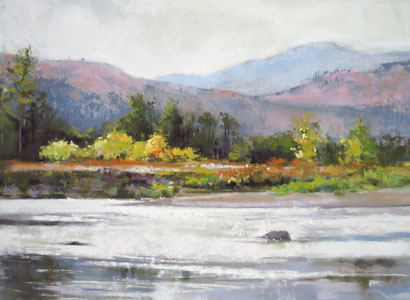 Barbara Benedetti Newton
"River Aria"
Pastel on paper
11"x15"
2008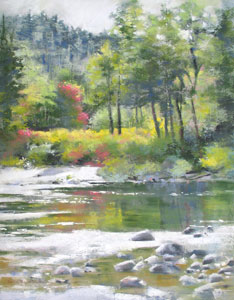 Barbara Benedetti Newton
"A Soft September"
Pastel on paper
23 1/2"x 18"
2008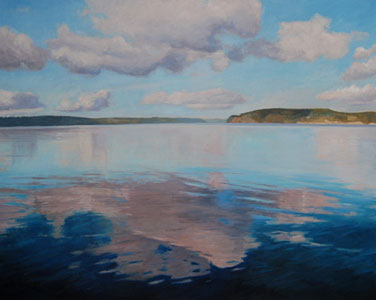 Neil Andersson
"Commencement Bay"
oil on canvas
46"x58"
2008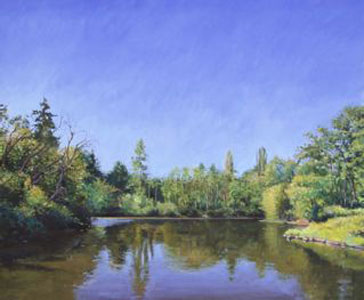 Neil Andersson
"Titlow Park, View from the Footbridge"
oil on linen
30"x36"
2008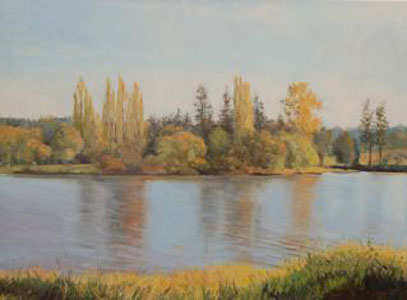 Neil Andersson
"Long Lake, Looking South"
oil on canvas
34"x46"
2008

more works in this exhibit