Back to Previous exhibits

Warlukurlangu Artists from Australia's Central Desert
An exhibit of "Tall and Skinny" paintings and small works on board by children.

June 18th-Aug 2nd, 2008
Reception Thursday, June 26th, 5:30-7:30.


Please refer questions to Jeffrey Moose, 206.467.6951 or jmoose@jeffreymoosegallery.com.

Jeffrey Moose Gallery, 1333 5th Avenue, Seattle, WA, is proud to announce a Sixth exhibition of acrylic paintings on canvas and board, most of them "Tall and Skinny", by artists from the Warlukurlangu Artists Aboriginal Association of Australia's Central Desert, from June 18th through August 2nd. Reception: Thursday, June 26th from 5:30 to 7:30 PM at the gallery.

Artists featured in this show include senior masters Bessie Nakamara Sims, Maggie Ross and Erica Ross. Younger talents include Marilyn Maria Nangala Turner, Joy Nangala Brown and Elizabeth Napangardi Lechleitner as well as works on small canvas boards by talented children in the community.

Just in time for summer, these works crackle with heat, psychic energy and the magical creation stories of Australia's Central Desert.

The word Warlukurlangu derives from an important "Jukurrpa" or creation story (dreaming) and means "belonging to fire". Founded in 1985 as a cooperative meant to protect the rights of artists and the integrity of their stories in the small desert community of Yuendemu in Australia's Nothern Territory, the group is known world-wide for their traditional ground paintings, the root of all the famous dot-painting imagery from Australia's desert. Traditional ground paintings by the Yuendemu artists have made history, first in a 1989 installation in Halle De La Villettte, Paris, France as part of the international survey, Magiciennes De La Terre and later in 1999's Spirit Country survey exhibition at San Francisco's Palace of the Legion of Honor. The Seattle Art Museum's newly remodeled exhibits feature a large work by artists from the cooperative.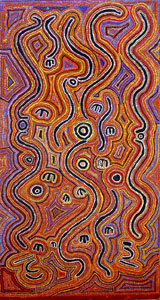 "Janganpa Jukurrpa / Possum Dreaming"
Bessie Nakamarra Sims
acrylic on canvas
61 1/2"x30"
2003




"Pamapardu Jukurrpa / Flying Ant Dreaming
Erica Napurrurla Ross
acrylic on canvas
48"x12"
2008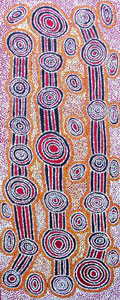 "Yumari Jukurrpa / Yumari Dreaming"
Joy Nangala Brown
acrylic on canvas
48"x18"
2006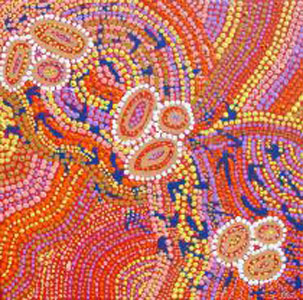 "Yankirri Jukurrpa / Emu dreaming"
Ormay Nangala Gallagher
acrylic on canvas
12"x12"
2008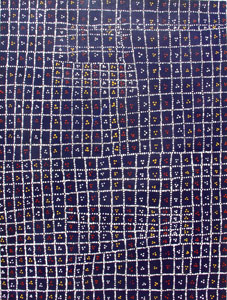 "Mina Mina Jukurrpa / Mina Mina Dreaming"
Marilyn Maria Nangala Turner
acrylic on canvas
48"x36"
2008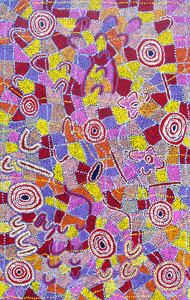 "Mina Mina Jukurrpa / Mina Mina Dreaming"
Margaret Napangardi Brown
acrylic on canvas
48"x30"
2008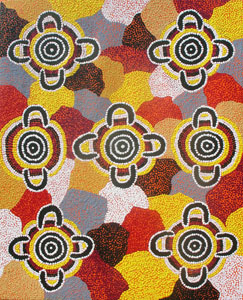 Lena Nungarrayi Brown Hudson
acrylic on canvas
30"x24"
2007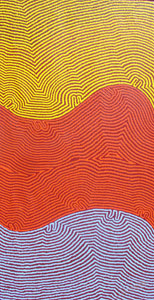 "Ngapa Jukurrpa / Water Dreaming"
Hilda Nakamarra Rogers
acrylic on canvas
48"x24"
2008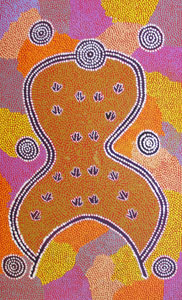 "Marlu Jukurrpa / Red Kangaroo Dreaming"
Catherine Nungarrayi Malbunka
acrylic on canvas
30"x18"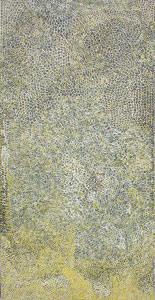 "Ngalyipi Jukurrpa / Snake Vine Dreaming"
Lola Napanagka Walker
acrylic on canvas
48"x24"
2008