Back to Previous exhibits

Anne Greenwell Collett
paintings on paper, quilts and prints

February 6th through March 29th, 2008
Reception Thursday, Feb 7th, 5:30-7:30 PM.


Please refer questions to Jeffrey Moose, 206.467.6951 or jmoose@jeffreymoosegallery.com.

Jeffrey Moose Gallery, 1333 5th Ave, Seattle, is pleased to announce a solo show of paintings and textiles by a talent new to the Northwest, Anne Greenwell Collett. The exhibition will run from February 6th through March 29th. A reception for the artist will be held on Thursday February 7th from 5:30 to 7:30 PM.

Ms. Collett studied painting at the University of Texas at Austin while also earning a Bachelor of Science in Nursing. She then studied further on a full scholarship to the Skowhegan School of Art in Maine. Later she attended the Penland School of Arts and Crafts where she studied block theory and double weave techniques on the floor loom.

An important influence in the art of Ms. Collett has been the tradition of quilt making that was taught to her by mother and grandmother. Many of her paintings reflect her strong interest in textiles as they are composed in patterns with thread-like components.

In her artist's statement, Ms. Collett states that she is "trying to convey a sense of movement and vitality that is inherent in natural forms". This she accomplishes by using many layers of colored dots to describe the movement of water, air and space. Her subject matter consists not only of these natural forces but of the very stuff from which those forces are composed: atomic matter. As she notes, even static matter is composed of particles which are in constant motion. Works such as "Window", tempera and ink on paper, 15"x12" and "Sea of Blue", tempera and ink on paper, 30"x30" typify her penchant for atmospheric color.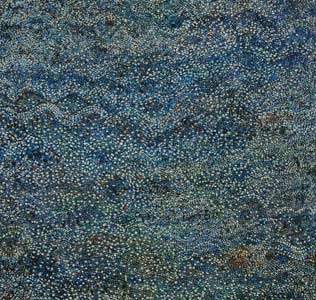 Anne Greenwell Collett
"Sea of Blue"x
paint and ink on paper
30"x30"
2007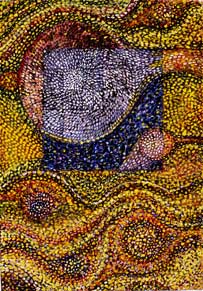 Anne Greenwell Collett
"Window"
paint and ink on paper
15"x12"
2006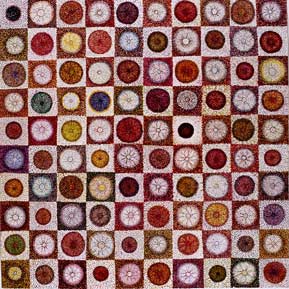 Anne Greenwell Collett
"Areolae"
paint and ink on paper
30"x30" 2005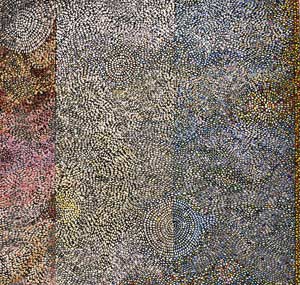 Anne Greenwell Collett
"Multiphase"
paint and ink on paper
21"x22"
2005




Anne Greenwell Collett
"Pleiades"
tempera on paper
30"x12"
2005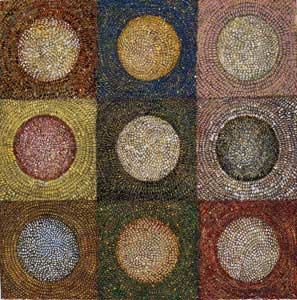 Anne Greenwell Collett
"Spheres"
paint and ink on paper
17"x17"
2005



More works in this exhibit