Back to Previous exhibits

Australian Aboriginal Prints
Prints from throughout the continent

Nov. 6th through Saturday January 12th, 2008
November 14th from 5:30 to 7:30.


Please refer questions to Jeffrey Moose, 206.467.6951 or jmoose@jeffreymoosegallery.com.

Jeffrey Moose Gallery, 1333 5th Ave, Seattle, WA, is pleased to announce an exhibition of fine-art prints by a diverse group of Australian Aboriginal Artists from Tuesday, Nov. 6th through Saturday January 12th. A reception for the exhibition will be held on Wednesday, November 14th from 5:30 to 7:30 PM.

The show will represent work from throughout Aboriginal Australia from the Central Desert and Western Deserts, from Arnhem Land in the Northwest to the Torres Strait Islands and Queensland in the Northeast. Etchings, lithographs, linocuts and silkscreens will be on display.

Torres Strait artist Dennis Nona, winner of the 2007 Tesltra Indigenous Art Award, Australia's highest prize for Aboriginal artists, will be featured as will his studio mate David Bosun. From the Desert, Paddy Japaljarri Sims and Sheila Napaljarri Brown and will represent the community of Yuendumu. Rosella Namok, of Queensland, whose paintings are now on display at Stonybrok University in New York, is represented as is Lily Karedada, of the far western Kimberly region. Also showing are a group of rare early works, including well known urban Aboriginal artists Trehanna Hamm and Arone Meeks.

There is a fascinating subplot in this show concerning the legendary printers who helped bring the complex and ancient medium into the world of multiple images. Ex patriot Theo Tremblay, a graduate of The Museum School in Boston, moved to the Central Desert of Australia in the late 70's, disgusted with the Vietman War, and was a cog in the first wave of Aboriginal art in its formative days. Austraklian printer Basil Hall of Darwin's Northern Editions is another such Aboriginal printmaking pioneer. Works by both printmakers and other are represented in this show.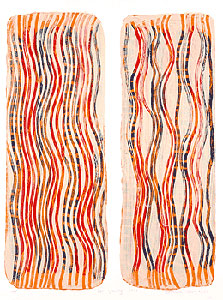 "For Young Ones"
Rosella Namok
Serigraph
29"x22"
2005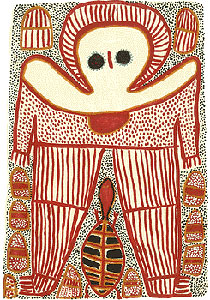 "Poonai Wandjina"
Lily Karedada
Serigraph
47.2"x31.5"
2000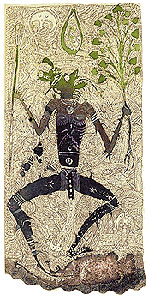 "Uzu Pui"
Dennis Nona
Etching
26"x14"
2005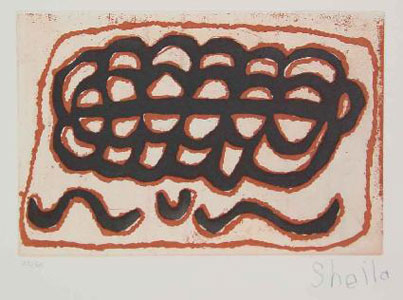 "Ngalyipi Jukurrpa"
Sheila Napaljarri Brown
Etching
6.7"x9.8"
2000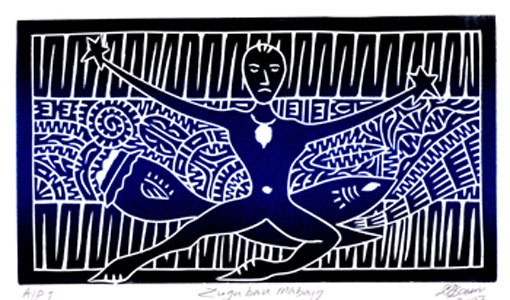 "Zugubau Mabaig (Astronomer)"
David Bosun
hand-colored linocut
11"x15"
2007

More works in this exhibit