Back to Previous exhibits

Barbara Benedetti Newton and Randena Walsh
An Exhibition of local landscapes in pastel on paper
Sep 11thth - Oct 27th, 2007
Reception Thursday, Sep 13th from 5:30 to 8:30 pm.


Please refer questions to Jeffrey Moose, 206.467.6951 or jmoose@jeffreymoosegallery.com.

Pastel virtuosos Barbara Benedetti Newton and Randena Walsh will show a group of new works at Jeffrey Moose Gallery, 1333 5th Ave. Rainier Square, Seattle, WA from September 11th through October 21st. A reception for the artists will be held on Thursday, Sep13th from 5:30 to 7:30.

Barbara Benedetti Newton is not only a pastel specialist, but a published authority on the medium of colored pencil, an instructor at the Frye Museum and a multiple award winner. Her precise, photorealistic approach to colored pencil is contrasted with her more expressionist, gestural style as a pastel artist. Barbara's subject matter stays close to her vacation home in the Alder-lined riverbanks of the south Puget Sound. This year marks her induction to the Signature Member level of the Northwest Pastel Society. Her work was then included in an important international exhibition where she received a Past President's award.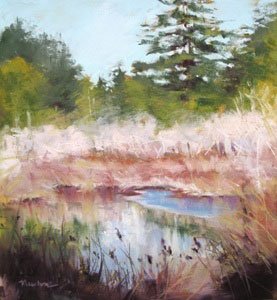 Barbara Benedetti Newton
January: Icy Pond
pastel
9 x 8.5 framed 16 x 15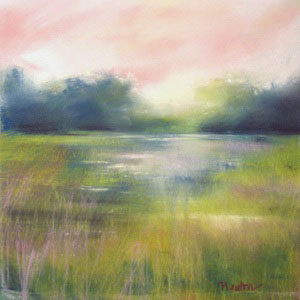 Barbara Benedetti Newton
Heartache
pastel
9 x 8.5 framed 16 x 15



More works by Barbara Benedetti Newton

Randena Walsh grew up on a beach near Bremerton and has a close relationship to many of her land subjects; most of her imagery depicts places on the Kitsap and Olympic Peninsulas. Her style is looser than that of Ms. Newton and she often employs daring color substitutions. A member of the Northwest Pastel Society, the Native Plant Society, and her local chapter of the National Audobon Society, she is committed to her professional career and to protecting and learning about the environment. In a twist, Ms. Walsh will also exhibit some black and white figurative work in this show.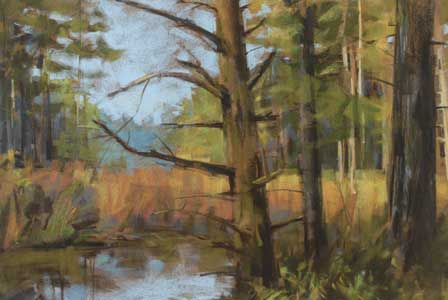 Randena Walsh
Fall Rains at Big Pond"
2007
Pastel on paper
8 3/4"x 11 1/2"
2007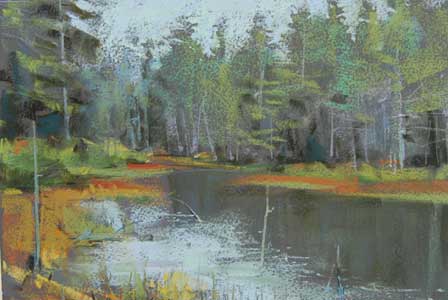 Randena Walsh
"Big Pond Snag"
2007
Pastel on paper
19"x25"
2007

Works by Randena Walsh