Back to Previous exhibits

Glass by Bob Mitchell, ceramic by Californian Michele Rudenko, and digital collages by Alissa Hinton
July - August, 2006


Please refer questions to Jeffrey Moose, 206.467.6951 or jmoose@jeffreymoosegallery.com.

A sampler of gallery artists will be on display at Jeffrey Moose Gallery, 1333 5th Ave, Seattle, for the month of August. No reception is scheduled for this show.

The exhibition will include a sampling of new blown glass by Bob Mitchell, new Raku ceramics by Californian Michele Rudenko, digital collages by Native artist Alissa Hinton, small bronze "Spirit" figures Native artist Lillian Pitt , ceramic sculpture from Orcas Island's Hannah Alex Glasser and work from the last exhibition, bronzes by Ann Morris and paintings by Gerald Lonning .

New work from Mr. Mitchell includes a new "Icon" series, three piece, nested centerpieces with solid colors and double lip-wraps and a new footed "Sedona" (mixed color) bowl. Ms. Rudenko, of Northern California, has developed her talent in Raku vessels to an astonishing level. Her new vases, some glazed with the rainbow hued Raku finish, others decorated witha "horse hair" pattern, sit along side her more complex gracefully cuved Raku trays with Grecian style borders.

Work from all these artiists and many more in the gallery stable will be on display in Jeffrey Moose Gallery Art Mart in the Rainier Square Concourse which connects Rainier Square with One and Two Union Squares.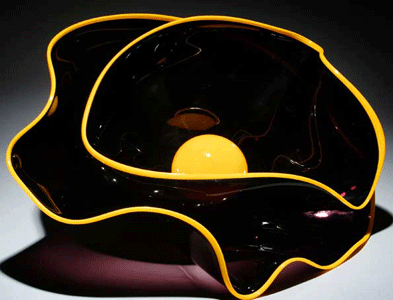 Bob Mitchell
"Icon Centerpiece"
2006. Blown Glass
25" diameterx 6" deep, 3 pcs.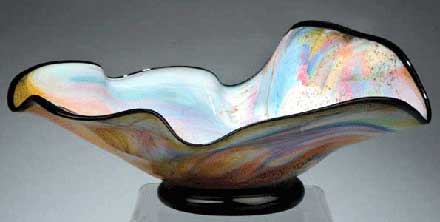 Bob Mitchell
"Footed Sedona Centerpiece"
2006
Blown Galss
14" diameter, 5" deep.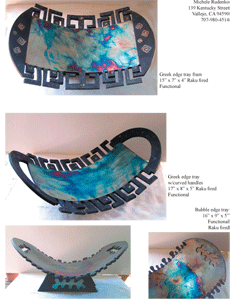 Michele Rudenko
"Raku Tray"
2006
Raku fire ceramic
16"x8"x5".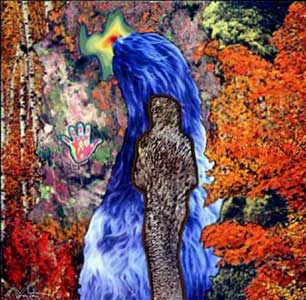 Alyssa Hinton
"Tennessee"
2000
Digital collage on paper
18"x13"