Back to Previous exhibits

Ann Morris bronze sculpture, Gerry Lonning abstract paintings
June 6 - July 29, 2006
Reception Thursday, June 8 from 5:30 to 7:30 pm

Please refer questions to Jeffrey Moose, 206.467.6951 or jmoose@jeffreymoosegallery.com.

Ann Morris bronze sculpture, Gerry Lonning abstract paintings at Jeffrey Moose Gallery, 1333 5th Ave, Seattle, 6/6-7/29, reception Thursday, 6/8 from 5:30 to 7:30 pm.

Figurative sculptor Ann Morris, of Lummi Island, will show recent plant and animal based works from her "Bone Journey" series alongside subtle, grid-based abstract paintings from Suquamish artist Gerry Lonning from June 6th through the month of July at Jeffrey Moose Gallery, 1333 5th Ave, Seattle, WA. A reception for the artists will be held on Thursday, June 8th from 5:30 to 7:30 PM.

Ms. Morris, known for her breathtaking "Sculpture Woods" series of life-size bronzes documening the rise and fall of the Feminine in human culture, will show works based on bone and leaf forms inspired by the wildlife of her San Juan Island home. She is an artist with a lengthy exhibition history going back over 30 years when she showed in museums, galleries and colleges near her home in Southern California. Though her first sculptures were made in the mid 70's, she has focused exclusively on bronze since 1990 when she first conceived of the "Sculpture Woods" project. She has lived in the Northwest since the mid 80's, showing at galleries and museums throughout the region. Ms. Morris is a founding member of the Flintridge Foundation, an organization that provides working grants to underacknowledged artists.

She has focused on bones and boats with the development of the "Bone Journey" series; animal bones and skulls, leaf, boat and bowl forms act as metaphors for the vehicles of life, reminding us of the power of what remains after life has passed. While some forms are derived directly from nature (see "Crab Claw"), others are sleek and stylized ("Beak Shelter"), pleasing refinements from the originals, quests toward the essential.

Also seeking to cut to the quick and address the elemental, Gerry Lonnings works are Hans Hoffmanesque in their defference to the grid and subtle color juxtapositions. He breaks from the conceptual with the use of stenciled found imagery, most of which is obscure, ironic and just humorous enough to let you off the Hoffman hook. Having been in Kitasp County since the late 80's, Mr. Lonning has worked in a variety of ephemeral media including Xerox reproductions ( in 1977 he showed in a Xerox-themed show at the University of Colorado, Boulder) and found objects. He came out of the midwest, graduating with Honors in Art and Philosophy in 1975 from the University of Wisconsin, Eau Claire. Lonning's association with Mr. Moose goes back nearly 20 years with his inclusion in shows at Bainbridge Island's Net Contents Gallery in the late 80's and early 90's.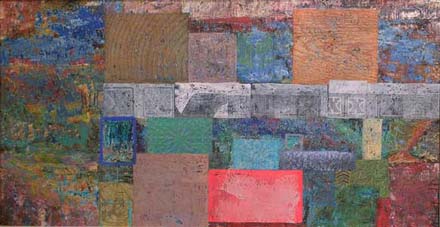 Gerry Lonning
"Untitled with X's"
2006
Acrylic on Masonite
12 1/2" x 22"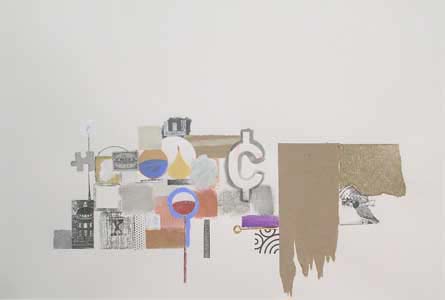 Gerry Lonning
"Soap Lake"
2003
Mixed media on paper
13"x 19 1/2"


More works by Gerry Lonning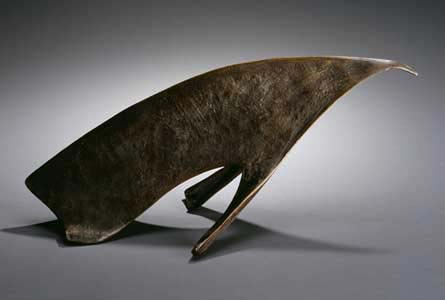 Ann Morris
"Beak Shelter"

2003
Cast bronze
11"x 11"x 27".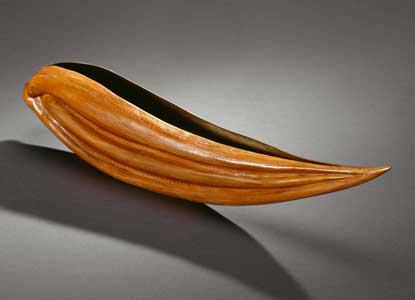 Ann Morris
"Crab Claw"
2003
Cast Bronze
4 1/2"x 3 3/4"x 22"


More works by Ann Morris