Back to Previous exhibits

Alyssa Hinton & Hannah Alex-Glasser
collages & ceramic sculpture
April 11th through June 3rd, 2006
Reception Thursday, April 13th from 5:30 to 8:30 pm

Please refer questions to Jeffrey Moose, 206.467.6951 or jmoose@jeffreymoosegallery.com.

Ms. Hinton, of mixed Native American, African American and European ancestory, creates collages built of both hand-made and digitally produced components. Her powerful images, shocking in their electric colors and mysterious juxtapositions of natural elements and textures together with vague ghost-like figures, speak to her mother's roots as a Tuscarora Indian from Johnston County in eastern North Carolina.

Her themes reflect her own complicated, confusing journey to the heart of her mixed identity, with layers of Spirit Worlds, animal and plant totems and forms that reflect the traditions of the Southeast Native American Mound-Builders. There is an urgent tone of environmental activism as well: in more than one image, a turtle, ever present in Native American lore, wears a pair of sunglasses to protect it from the withering, blinding light of modern humanity, and, hopefully, extinction. Originally composed of cut and torn found images, Xerox copies and hand-painted and drawn layers, Hinton's primary commercial output consists of digital images on archival paper, though she continues to work as a painter and mural artist.

Ms. Hinton was trained at Temple University, Tyler School of Art in Philadelphia, where she received a BFA Magna Cum Laude in 1988 and at art schools and universities in France and in China. She was featured last fall in the Florence, Italy Bienniale and was one of a hand-full of artists selected to exhibit at the opening of the National Musueum of the American Indian on the Mall in Washington, D.C. last spring.

After a rich international career as a ballet and contemporary dancer, Ms. Alex-Glasser turned to clay in 1990 and taught herself. Inspired by reverence to the Earth and the Feminine, her work includes forms which reference the human figure, Israeli geography, where she lived from 1975 to 1985, and archetypal forms from Nature suggesting tusks, tree trunks and undersea plant life. Utilizing hand-building techniques to create her forms, Ms. Alex-Glasser fires her work in open-air, wood-fired kilns derived from Pueblo methods. This renders the stone and earthenware surfaces with the dramatic burn patterns and colorful chemical imprints typical of Raku and Anagama firing processes. She is the recipient of important awards and purchase prizes and has work in public as well as private collections.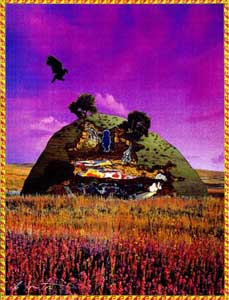 Alyssa Hinton
"Ancestral Plane"
giclée on rag paper
12"x16"
1996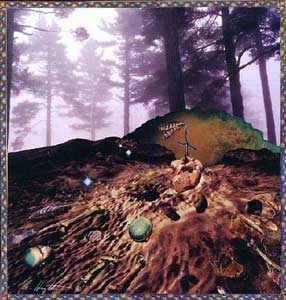 Alyssa Hinton
"Spiritual Archeology"
1997
offset lithograph poster
16"x20"


More works by Alyssa Hinton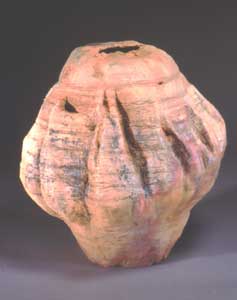 Hannah Alex-Glasser
"Qumran"
1998
stoneware, pit-fired
16.5"x 17" dia.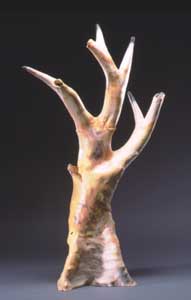 Hannah Alex-Glasser
"Old Growth"
2002
stoneware, pit-fired
30"x 17"x8"


More works by Hannah Alex-Glasser