Back to Previous exhibits

Koji Kubota & Rick Stafford
February 9th through March 31st, 2006
Reception Thursday, February 9th from 6:00 to 8:00 PM

Please refer questions to Jeffrey Moose, 206.467.6951 or jmoose@jeffreymoosegallery.com.

Paintings by Koji Kubota and porcelain by Rick Stafford 2/6 - 3/31. Reception 2/9, 6-8 PM at Jeffrery Moose Gallery, 1333 5th Ave, Rainier Square, Seattle, WA.

Jeffrey Moose Gallery is proud to announce a show of oil paintings by Japanese ex-pat Koji Kubota and porcelain by Bainbridge Island ceramicist Rick Stafford, opening on Thursday, February 9th with a reception from 6 to 8 PM at the gallery, 1333 5th Avenue, Rainier Square, second level. The exhibit will run through March 31st.

Mr. Kubota's paintings are predominately optimistic, brightly colored abstractions based on land and space-scapes. They are rooted in an automatic process by which shapes and colors arise in an stream of consciousness for the artist; one spontaneous form suggests another and, according to the artist, the pictures paints themselves. Some works include suggestions of specific scenery, such as "Oceania Palace", with its reference to the Seattle waterfront or "Latitude 33E, Longitude 44N" , the geographical coordinates for Baghdad, while others are wholly imaginary, such as "Entrance to the Strawberry Fields" and "Flight Lesson", imaginary scenes from dreams or outerspace.

Mr Kubota's style suggests a complex mixture of Eastern and Western styles. Matisse-like , solid color-shape collages create an environment for representational elements such as birds, fish, leaves and occasional symbols. It's clear from some of the cutsey subject matter that Japanese animé and advertising have also had an influence. Yet the cuteness of the elements is not in any way ironic: they are straightforward and uncorrupted, childlike and peaceful.

Originally from Kobe Japan, where he worked as a jazz drummer for a decade, the artist has been in the US since 1986. He received an Associates degree from Seattle Community College in 1991 and studied fine art at the U.W.

Mr. Stafford, the top student of CWU professor Richard Fairbanks, works in a centuries-old Japanese technique called Neriage in which images and designs are created using different colors of clay. The work is fired twice, the second time at a very high temperature, fusinging the porcelain, turning it into glass. The result is an image which is raised from the ceramic surface, shiny and liquid in appearance. His current "Pond Series" works, primarily platters and a new fan shape, feature images of dragonflies, Koi and lillypads.

He has exhibited in numerous prestigious juried exhibitions throughout the U.S., including the American Craft Council shows in San Francisco and Philadelphia and the Fountain Hills exhibition in Arizona. His work is consistently compared with the best in his genre. He was included in the American Craft Council top 100 Craftsman in 2001. Recently, Stafford won best of show a the Salem Oregon Art Museum art in the park in 2005 and a prize for pottery at the Crown Hill Art festival Rochester NY in 2004.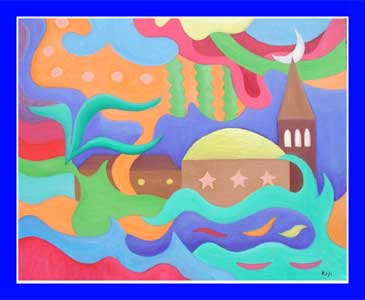 Koji Kubota
"Oceania Palace"
2003
Oil on canvas
20"x24"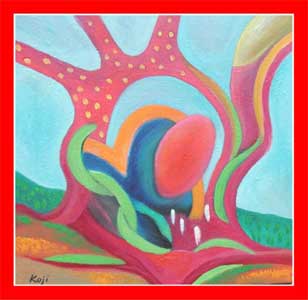 Koji Kubota
"Entrance to the Stawberry Fields"
2002
Oil on canvas
12"x12"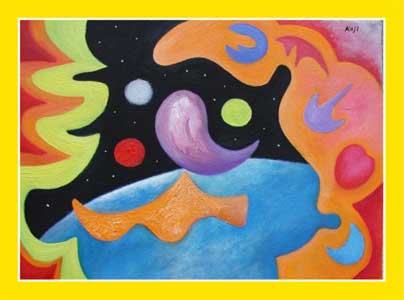 Koji Kubota
"Flight Lesson"
2002
Oil on canvas
12"x16"


More works by Koji Kubota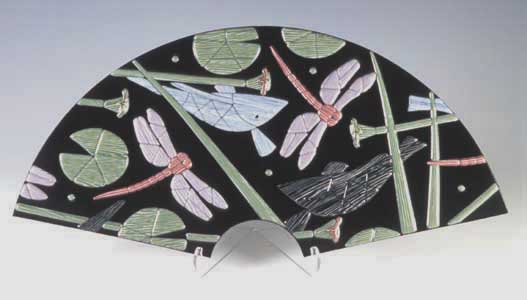 Rick Stafford
"Neriage Fan"
2005
Neriage porcelain
12"x22"x3/4"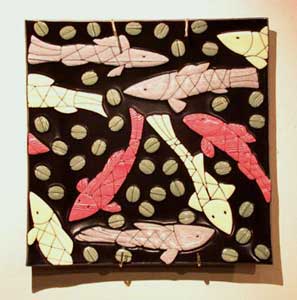 Rick Stafford
"Square Pond Platter"
2005
Neriage porcelain
18"x18"x 1"


More works by Rick Stafford