Back to Previous exhibits

Long Gao
November 23rd through January, 2006
Reception Friday, December 2nd from 5:00 to 8:00 PM

Please refer questions to Jeffrey Moose, 206.467.6951 or jmoose@jeffreymoosegallery.com.

Chinese Master Artist Long Gao will display a solo exhibition at Jeffrey Moose Gallery from November 23rd through January, 2006. A reception for the artist will be held on Friday, December 2nd from 5:00 to 8:00 PM.
Mr. Gao will show a variety of work including traditional Chinese scrolls and landscapes in ink, surrealist oils on canvas, a collection of wood carvings and a group of his well-known stone-cut prints or "Image Seal Cuttings". This special show, his first solo show in four years, will feature two very special works which closely connect Mr. Gao to his former home. Large paper scrolls filled with images of vegetables and herbs and accompanied by text, in an ancient form of Chinese calligraphy, explain the life-extending powers of the items depicted. The titles: "Long, Long Life I & II".
Mr. Gao is a talent with very few peers. This September, the City of Seattle selected a major surrealist oil by Mr. Gao, "A New World", for their portable collection. He helped to design the soon to be built traditional Chinese Garden of South Seattle. He served as an Artist in Residence at the Tacoma Art Museum for the acclaimed "Inside Out" exhibition of contemporary Chinese art shown at the Tacoma Art Museum and the UW's Henry Gallery in 2000. Mr. Gao's talent is so broad, so refined that Jerome Silbergeld, Professor of Chinese Art History at the University of Washington (and author of two of the five books published in English on 20th Century Chinese artists) declares that "...of the Chinese artists who have come to the U.S. in the last fifteen years, some of whom represent the highest level found in China, ... I would rank Gao's work among the best."
His reputation in China is legendary: he was the Vice Chairman of the Association of Artists under the Ministry of Radio Film and TV and Director of the Jiu-San Association of Chinese Calligraphy and Painting Research in the Peoples Republic of China. Mr. Gao received widespread international recognition for his book of "Image Seal Cuttings", an art form based on the most ancient of Chinese art forms, Seal Cutting. This is a medium which marries visual art and literature; the thoughts of an artist are portrayed in both imagery and poetry. An image is carved in reverse into a stone and then printed, then a poem or line of text is added next to the picture. His "Seal Cuttings" are collected by the Beijing Library in China, the U.S. Library of Congress, the Seattle Public Library and many universities throughout the U.S..
Mr. Gao has worked in many media in addition to his seal cuttings. His oil paintings, traditional Chinese landscape paintings and abstract sculpture in metals are all superb. His skill at carving wood is astounding. His carvings of faces, animals and abstractions are compelling 3D versions of the seal cuttings, but with the added vitality lent by the warmth of wood grain and the mark of the sculptor's tools. All of the artist's efforts include forms derived from traditional Chinese folk imagery, tools and even philosophical concepts.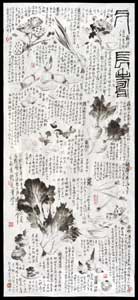 Long Gao
"Long, Long Life I"
2005
Chinese ink on paper
84"x38"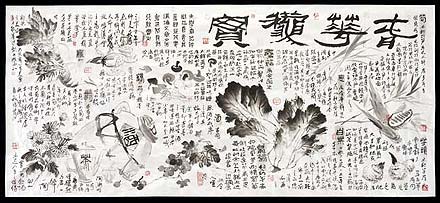 Long Gao
"Long, Long Life II"
2005
Chinese ink on paper
38"x84"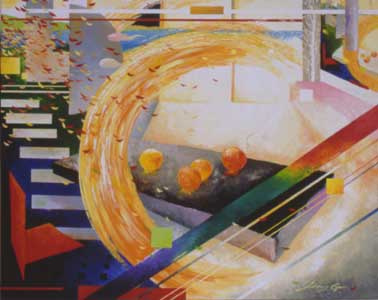 Long Gao
"Four Fruits, Four Dimensions"
2005
Oil on canvas
48"x60"

More works by gao long