Back to Previous exhibits

Aboriginal Artists from Yuendemu
Oct 5th - Nov. 5th, 2005
Reception Thursday, October 7th from 5:30 to 7:30 pm

Please refer questions to Jeffrey Moose, 206.467.6951 or jmoose@jeffreymoosegallery.com.

Jeffrey Moose Gallery, on the 2nd level of Rainier Square,1333 5th Avenue, Seattle, WA, is proud to announce a fourth exhibition of acrylic paintings on canvas and prints by artists from the Warlukurlangu Artists Aboriginal Association of Australia's Central Desert, in Recognition of their 20th Anniversary, from October 5th through November 5th. A reception for the exhibition will be held on Thursday, October 6th from 5:30 to 7:30 PM at the gallery. Additional Aboriginal canvases and prints will be on display on the Jeffrey Moose Gallery Art Mart space located in the underground concourse connecting Rainier Square with One Union Suqare.

The word Warlukurlangu derives from an important "Jukurrpa" or dreaming and means "belonging to fire". Founded in 1985 as an cooperative meant to protect the rights of artists and the integrity of their stories in the small desert community of Yuendemu in Australia's Nothern Territory, the group is known world-wide for their traditional ground paintings, the root of all the famous dot-painting imagery from Australia's desert. Traditional ground paintings by the Yuendemu artists have made history such as the 1989 installation in Halle De La Villettte, Paris, France as part of the international survey, Magiciennes De La Terre and 1999's Spirit Country survey exhibition at San Francisco's Palace of the Legion of Honor.

The Warlukurlangu cooperative is also known for its tradition of passing-on to the next generation: they have produced enormous collaborative paintings involving young and old artists, some including the work of as many as sixty artists and measuring as much as 12"x22". Large collaborative community works from Warlukurlangu are in the collection of Robert Kaplan and Margaret Levy and have been displayed at the Seattle Art Museum and the Wright's Exhibition Space.

This year's featured artists include veterans Ruth Napaljarri Stewart, Queenie Niungarrayi Stewart, Lady Nungarrayi Robertson and younger artists Malcom Jampijinpa Frye and Phillip Jungarrayi Martin.

Australian Aboriginal dot-paintings are essentially aerial maps of sacred places, composed of dots, animal tracks and symbols which describe the Dreamtime (Creation) myths of the plants and animals which have sustained select language groups for as long as 200,000 years.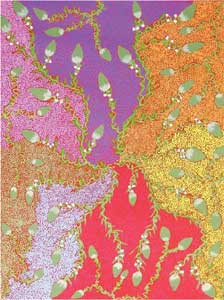 Queenie Nungarrayi Stewart
"Yuparli Jukurrpa (Bush Banana Dreaming)"
2005
Acrylic on canvas
41.5"x29.5"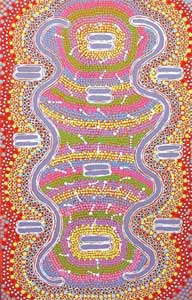 Malcom Jampijinpa Fry
"Ngapa Jukurrpa (Water Dreaming)"
2005
Acrylic on canvas
29.5"x 17 7/8"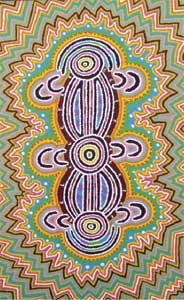 Beverley Napanangka Marshall
"Jungunpa Jukurrpa (Hopping Mouse Dreaming)"
2005
Acrylic on canvas
29.5"x 17 7/8"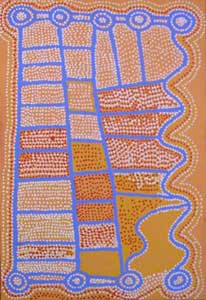 Shorty Robertson
"Nagapa Jukurrpa / Water Dreaming #2"
acrylic on canvas
36"x24"
2005






Shorty Robertson
"Nagapa Jukurrpa / Water Dreaming"
acrylic on canvas
48"x18"
2005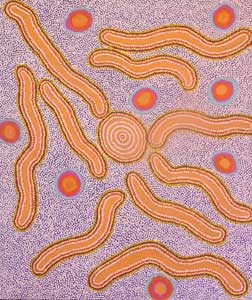 Ruth Stewart
"Ngarlu Jukurrpa / Red Rock Dreaming"
acrylic on canvas
36"x18"
2005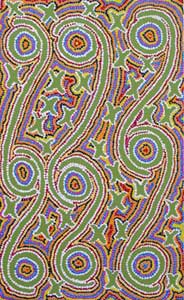 Peggy Granites
"Pirlala Jukurrpa / Bush Bean Dreaming"
acrylic on canvas
30"x18"
2005





Lady Robertson
"Witi Jukurrpa / Ceremonial Pole Dreaming"
acrylic on canvas
42"x18"
2003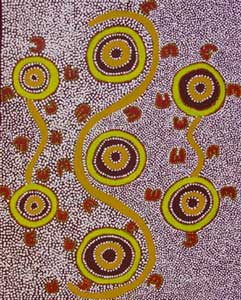 Phillip Martin
"Janganpa Jukurrpa / Possum Dreaming"
acrylic on canvas
30"x24"
2002


More examples from this exhibit