Back to Previous exhibits

"Yilpinji, Love Magic and Ceremony"
Central Australia's top Aboriginal artists
July 5th -, August 6th, 2005
Reception Thursday, July 7th from 5 to 7:30 pm

Please refer questions to Jeffrey Moose, 206.467.6951 or jmoose@jeffreymoosegallery.com.

Fine art prints from a group of Central Australia's top Aboriginal artists, titled "Yilpinji, Love Magic and Ceremony" will be exhibited at Jeffrey Moose Gallery, 1333 5th Avenue, Seattle, from Tuesday, July 5th through Saturday, August 6th. A reception, complimented by video of some of the artists at work and live digeridoo music, will be held Thursday, July 7th from 5 to 7:30 PM.

"Yilpinji..." is composed of small-edition fine art prints by senior Aboriginal artists from Balgo Hills, Yuendumu and Lajamanu, that explore the powerful traditions of love magic rituals amongst the Kukatja and Warlpiri peoples of the Tanami Desert region in Australia's N

orthern Territory.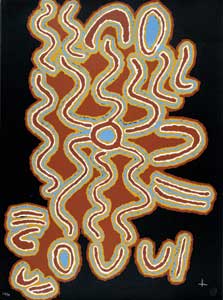 "Love Story"
Judy Watson Napangardi
Silkscreen
30"x22", ed.Of 99
2003

These love magic rituals and ceremonies, involve the singing of secret love songs, the painting of special designs onto their bodies and the production of 'love objects' to perform these ceremonies.

The group of top artists participated in the print production alongside some of Australia's finest master printers, including American ex-pat Theo Tremblay. The artists include names such as Paddy Sims Japaljarri, Paddy Stewart Japaljarri and Judy Watson Napangardi (Yuendemu), Susie Bootja Bootja, Helicopter Tjungarrayi, and Eubena Nampitjin (Balgo Hills), and Abie Jangala, Judy Martin Napangardi and Ronnie Lawson Jakamarra (Lajamanu).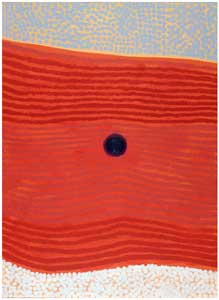 "This Place My Country"
Helicopter Tjungarrayi
Relief print
30"x22", ed of 99
2003.

Called 'Yilpinji' in the Warlpiri language, these ceremonies are enacted separately by men and women as a means of attracting the object of their sometimes adulterous or otherwise forbidden desire. Many Dreaming narratives and associated ceremonies make powerful statements about the consequences of illicit or illegal love - love that is, that offends the strict rules of their kinship structures.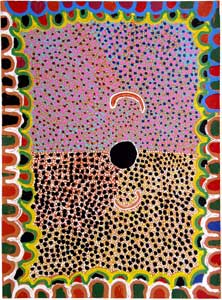 "Kaningarra"
Susie Bootja Bootja
Silkscreen
30"x22", ed of 99
2003

Paintings of Yilpinji not only relate to moral and ethical behaviour and the transgressions that occur but they are attached to specific tracts of land. Yilpinji stories and paintings provide guidance about how people should relate to, and interrelate with, one another and with the natural world.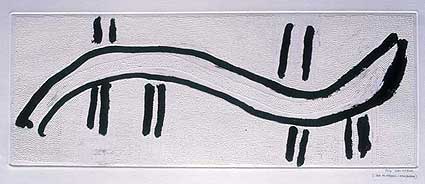 "Rainbow Men"
Abie Jangala
Etching
22"x30", ed. of 99
2003

In addition, love magic spells and songs relate to many 'different' Dreamings. They include stories about objects which 'hold' love magic and powerful love singers, as well as tales about faithfulness in relationships and the virtues of nurturing and respecting the object of one's love and desire. The prints in this exhibition and the stories that acompany them can be understood as concentrated, abbreviated versions of these much longer epic, and living, oral narratives.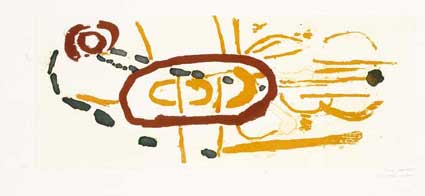 "Katinpatimpa"
Abie Jangala
Etching
22"x30", ed. of 99
2003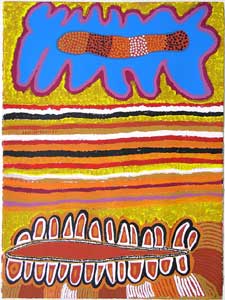 "Love Magic Ceremony Design"
Bai Bai Napangarti
Screenprint
30"x22", ed. of 99
2003
More images from this exhibit