Back to Previous exhibits

Klaus Suss
APRIL 6TH - MAY 7TH
reception Friday APRIL8TH 2005 5:30-8:30

Please refer questions to Jeffrey Moose, 206.467.6951 or jmoose@jeffreymoosegallery.com.

German woodcut printmaker Klaus Suss, Jeffrey Moose Gallery, 4/6 - 5/7, reception Friday 4/8 5:30-8:30.

Jeffrey Moose Gallery proudly presents the work of German printmaker/painter Klaus Suss in the gallery from April 6th through May 7th. A reception for Mr. Suss and his chief patron Eric Langer will be held Friday, April 8th from 5:30 to 8:30.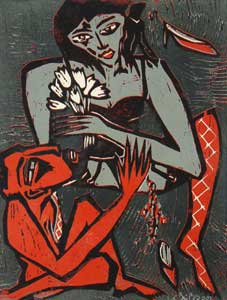 Klaus Suss
"The Danced-Through Shoe"
2002
Reduction linocut on paper
19 5/8" x 15"

Mr. Suss, of Chemnitz, an art-oriented town in what was the former East Germany, is an artist who works in a classic style of the German Expressionists. Indeed, Chemnitz was the home of Karl Schmidt-Rottluff, a member of Die Brucke (The Bridge), the art movement active in Dresden and Berlin between 1905 and 1913, known for angular, emotionally dark, expressive figurative work later condemmed as decadant by the Nazis. Mr. Suss spent much of his early years studying the work of Mr. Scmidt-Rottluff and his contemporaries, eventually developing the trademark style seen in his reduction woodcuts and linocuts. Born in 1951, his exhibition history includes shows throughout Germany and several European countries, important awards and aquisitions by major institutions.

The content in these images is stark and haunting: men and women face off in sexual archetypes rooted in German folk history, Greek myths, and a sort of nostalgic retro expressionism that includes cynical urban characters who might have lived one hundred years ago, haunting the cabarets of pre-depression Germany. While some images feature scenes of drunken couples, prostitutes and their Johns, others are inhabited by Mythic characters or by an artist and his model ,a re-ocurring theme that suggests many clever messages.

And as thick and symbolic as the content is, the method is equally complex, the medium just as dense. Mr. Suss is a practitioner of a highly unusual printmaking media: the reduction woodblock and linocut. In this technique a multi-colored print is made on paper from a single wood or linoleum surface that has been carved (so each mark is removing image area instead of adding it...) with a design. Instead of using a seprate wood or linoleum block for each color, as is typical, the same surface is printed and then re-worked, removing more and more information with each printing. In the end, the image is destroyed and the print edition numbers are quite small.

Mr. Suss also uses an unusual inking technigue. Before the Berln Wall fell, when he started making prints, only glossy inks were available, so he dusted flour on the surface of the feshly inked prints to flatten the finish. Not only does this create a deep complex color and surface, it also cracks as the layers pile on, revealing colors underneath to marvelous effect.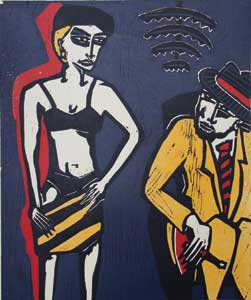 Klaus Suss
"Homage A Helmut Newton II"
2004
Reduction linocut on paper
23 5/8" x 19 5/8".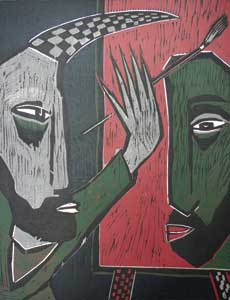 Klaus Suss
"Dos Portrait"
1998
Reduction linocut on paper
25 1/2" x 19 5/8"


More images from this exhibit