Back to Previous exhibits

Al Loving
February, 2005
Artist reception 6-8:30pm February 11th, 2005.

Please refer questions to Jeffrey Moose, 206.467.6951 or jmoose@jeffreymoosegallery.com.

Read an article about this exhibit.

For February, Black History Month, Jeffrey Moose Gallery will welcome back African American New York Abstract artist Al Loving, for his second show of abstract collage compositions and first-ever glass sculptures. The exhibition will open with a reception and chance to meet the artist on Friday, February 11th from 6 to 8:30 PM.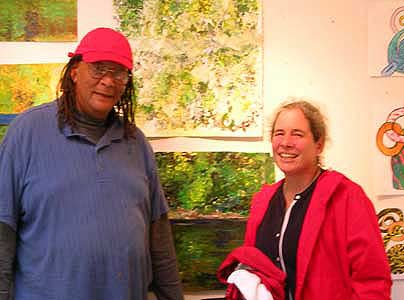 Al Loving and his wife Mara at Pilchuck during a residency, summer, 2004.

Mr. Loving has a strong reputation as a "Color Constructionist" and a collage artist for his lyrical, asymmetrical assemblies of acrylic-painted paper cut into fantastical shapes and mounted on plexi glass layers. Spirals, swirls, warped checkerboard patterns in a riotous tropical palette are juxtaposed in tight but harmonious puzzles, edges bulging with and violated by overlapping forms.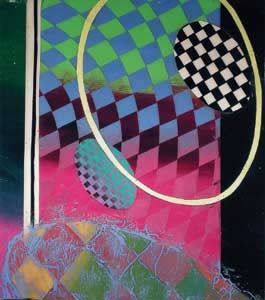 Al Loving
"Color Weave # 2"
2004
Acrylic/rag paper collage mounted on plexi
22" x 20"

Born in Detroit, Mr. Loving received his MFA from the University of Michigan. He has exhibited in five Whitney Museum of American Art exhibitions, including a solo show in 1969, and shown at the Metropolitan Museum of Art, The Detroit Art Institute, several international invitationals and scores of smaller museums, university and college shows. Three NEA grants, a Guggenheim Fellowship and a Joan Mitchell Award stand among his recognitions.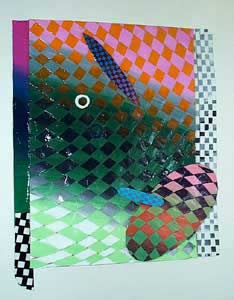 Al Loving
"Color Weave # 3"
2004
Acrylic/rag paper collage mounted on plexi
30" x 24.5"

His public commissions include gigantic works in the International Arrivals terminal at JFK Airport, in shopping malls, post offices and a recent enormous installation of industrial strength stained glass at a huge MTA subway hub in Brooklyn.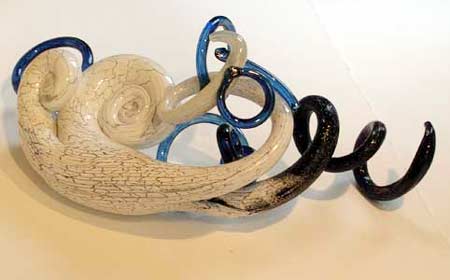 Al Loving
"as yet uintitled Pilchuck work # 1"
2004
Blown glass
7"x18"x8"

This year has brought major career developments for Mr. Loving, age 70, after surviving a quadruple bypass operation in 2003. In September of 2004, he opened his first solo show in New York City in over a decade. A review is forthcoming in the February issue of Art in America. He was recently the subject of a Black Entertainment Television interview, will be featured in an upcoming New York museum show on New York Painters of the 701s and is being considered by the Kennedy Center for official commemorative artwork. This year, Loving will show his first glass works, small sculptures produced during a summer 2004 residency at Pilchuck School of Glass.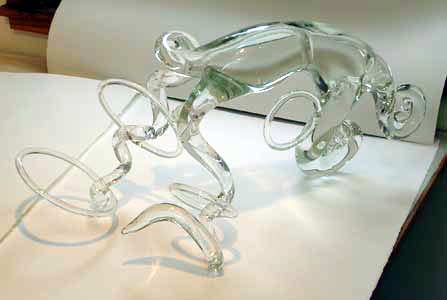 Al Loving
"as yet uintitled Pilchuck work # 2"
2004
Blown glass
6"x14"x6"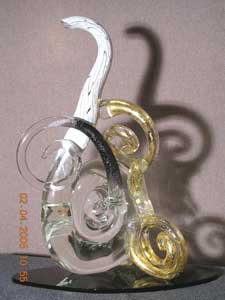 Al Loving
"untitled Pilchuck # 3"
blown glass
19"x14"x11"
2004