"Dealer in the Dreamtime"
November, 2004

Please refer questions to Jeffrey Moose, 206.467.6951 or jmoose@jeffreymoosegallery.com.

Jeffrey Moose Gallery is proud to announce a very special exhbition of Australian Aboriginal Art, "Dealer in the Dreamtime" a selection of exceptional canvases purchased by Mr. Moose on an art tour of Australia this past summer. The exhibition will run for the month of November, opening on Friday, November 5th with a reception from 6 to 8 PM at the gallery, 1333 5th Avenue, Rainier Square, second level.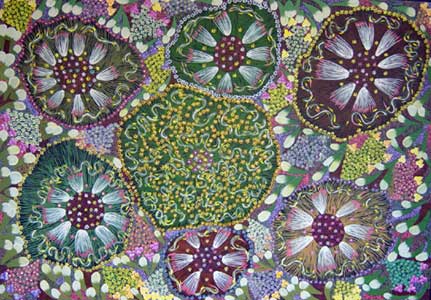 Eunice Napangardi
"Bush Banana Dreaming"
2004
Acrylic on belgian linen
48"x72"

The reception will include a slide show culled from photos taken during the trip. The journey, which included Mr. Moose's 74 year old father and 15 year old son, took the three generations from Darwin in the Northwest Northern Territories where the annual Telstra Art Awards was the chief attraction, to Cairns on the North East coast and Alice Springs in the "Red Center". From Alice, the group drove a four-wheel drive over a dirt track three hours into the desert to the community of Yuendumu, where dwells a group of painters who have been represented by Mr. Moose for three years.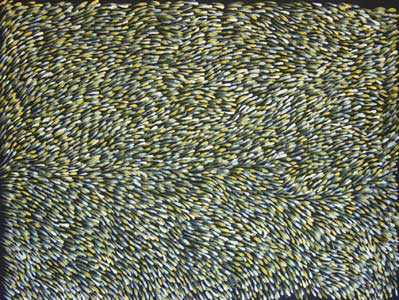 Gloria Petyarreye
"Medicine Leaves"
2004"
Acrylic on canvas
36"x48"

Artists included in the show are among Aboriginal Australia's most prominent: Gloria Petyarreye, an original member of the famous Utopia women's Batik group and one of the country's legends and Eunice Napangardi, of Papunya (the place that created the dot painting movement) who was commissioned for work in a 1992 World Bank travelling exhibit originating in Washington, DC and has a ten by twenty foot work hanging in the Alice Springs airport.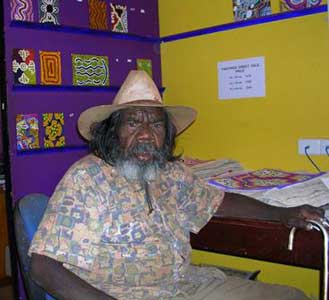 Paddy Japaljarri Stewart, aka "Cookie"
senioir artist at Yuendumu, NT
Photo by Richard Moose.

Also on display will be works from other desert artists including Nellie Marks, Eileen Petrick, Rosemary Petyarreye, Joanne Porter, Ruth Napaljarri Stewart and Long Maggie White. Arnhem Land, at the "Top End" of the Northern Territory is represented by a canvas from Kenneth Wark (who once went hunting with Bob Marley) and a work on paper by Ivan Namarrikki.

<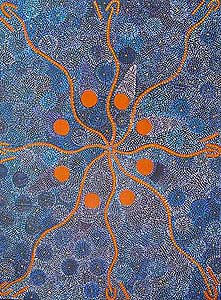 Marlene Coombe
"Sugar Bag Dreaming"
2004
Acrlic on canvas
48"x36'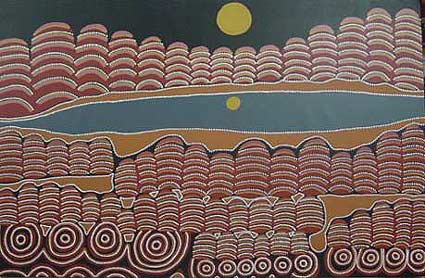 Sadi Carrington
"Red Rock Castle"
2004
Acrylic on canvas
40"x60"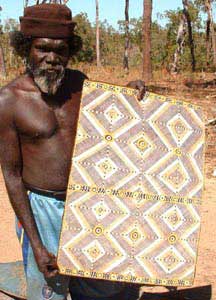 Ivan Namarrikki
Ivan Namarrikki holding "Sacred Water Holes"
2004
Acrylic on rag paper
22.5"x30"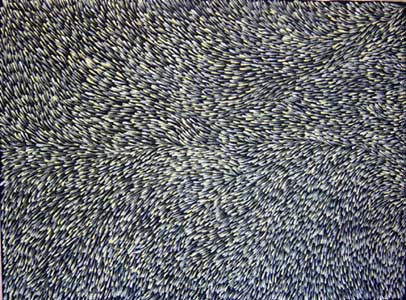 Gloria Petyarreye
"Medicine Leaves II"
2004
Acrylic on canvas
36"x48".