Wednesday August 4th through Saturday September 11th 2004

Huichol Yarn painter Modesto Rivera Lemus & multi media artist Jalai Laiel
9/18 through 10/25, reception 10/1

Please refer questions to Jeffrey Moose, 206.467.6951 or jmoose@jeffreymoosegallery.com.

Huichol Yarn painter Modesto Rivera Lemus & multi media artist Jalai Laiel will present "Defining the Sacred" at Jeffrey Moose Gallery from Saturday, September 18th though Monday, October 25th. A reception/performance/screening will be held Friday, October 1st from 6 pm to 10pm.



Jalai Laiel
"Medicine Woman"
2004
Beads on canvas
30"x24".

More examples by Jalai Laiel

In 2003, Seattle artist Jalai Laiel traveled to Mexico, on a fellowship from Pratt Fine Arts Center, to explore the art and culture of the Huichol people of central Mexico. Her journey was both informational and spiritual; she shot video, which is now a film by Seattle director Phil Lucas entitled "Defining the Sacred", made art, and participated in a vision quest in a traditional Huichol homeland. She also met Mr. Lemus, a traditional practitioner of the Huichol spiritual heritage and yarn painter with 20 years of experience and two childrenıs books to his credit.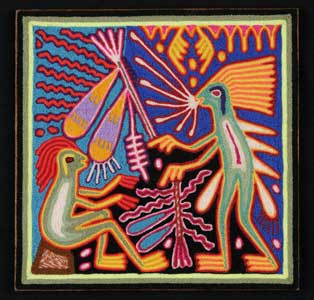 Modesto Rivera Lemus
Untitled (Shamanic Healing)
2003
Yarn and wax on board
6"x6"

More examples by Modesto Rivera Lemus

Mr. Lemus is a native of Nayarit Mexico, but spends part of his time in the town of Tepic, where his children attend school. The renmainder of the year he lives on a small ranch, practicing a traditional life of hunting, fishing and farming. He has exhibited in the US and Mexico and demonstrated the craft of the traditional Huichol painting at museums and cultural festivals. He illustrated Watakame's Journey (Clear Light, 1999) and his most recent book, When Animals Were People is co-authored by Bonnie Larson (Clear Light Books). It tells the story of newly created beings and their evolution into various animals.

Ms. Laiel has exhibited in Seattle for three years. Her educational background includes extensive work at Pratt Fine Arts Center in several media, The Seattle Glassblowing Studio, The University of Wisconsin, Eau Claire and life on Navajo and Lakota Sioux reservations.

While Mr. Lemus will exhibit several traditional Cuadros, yarn paintings, Ms. Laiel will show a variety of work in beads, glass, antler and paint as well an installation that recreates the experience of Sacred Revelation. "Defining the Sacred" will be screened and copies of Mr. Lemusı new book will be available.